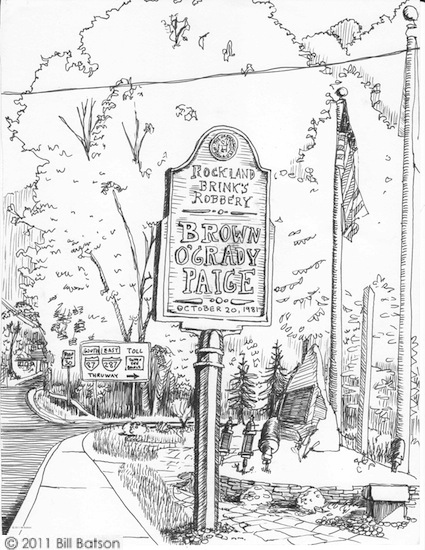 A little over 30 years ago, Nyack suffered its own day "that shall live in infamy." Two members of the now disbanded Nyack Police department were ambushed and gunned down near the on-ramp to the NYS Thruway following the Brink's Robbery at the Nanuet Mall. Three decades have passed, but for many of the families who lost loved ones, it's still a wound that time cannot completely heal.
The New York Times examines one of the perpetrators of that crime, Judith Clarke, in a story by investigative reporter Tom Robbins in the print edition of the Sunday Jan 15 New York Times Magazine.
Judith Clark's Radical Transformation tells the story of whom Clark was in 1981 and who she is today. It's food for thought about crime…and punishment. And a must read for anyone who has ever driven past the Brink's Memorial in Nyack, NY.
Illustration: Bill Batson
See also: