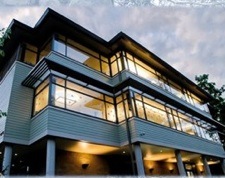 by Roger Seiler, President, Nyack Library Board of Trustees
On Monday, Jan 9 five candidates will compete for four open seats on the Nyack Library Board of Trustees. Polls open at 10a and close at 7:45p. You can cast your ballot in the lobby at the new entrance at the Nyack Library. Here, in alphabetical order, are the list of candidates.
Mary Callan- lives in Grandview with her husband and four children.  She writes a monthly cooking column for Rivertown Magazine and authors a successful cooking blog "Inside a British Mum's Kitchen."  Mary previously served on The Nyack Library Board from January 2006 to October 2007 and served on the Fundraising Committee.  Mary left the Board in 2007 to set up the Development Office for the Library involved with fundraising for the library expansion, where she raised over $400,000 for the library.  In November, 2009 she rejoined the Board when she was appointed to fill an unexpired term, an appointment that was confirmed by her public election in January 2010.
Peter Danish– has been a Nyack resident for nearly twenty  years.  He has served on numerous not-for-profit boards.  He was a founding member and former president of Reaching Out Around Rockland (a coalition of five human service charities: Rockland Family Shelter, Jewish Family Services, SHARE, Joseph's Home and United Hospice) as well as a founding member and current board member of ArtsRock.  A Media Marketing Executive for over two decades, he has served as Director of Marketing for NBC, Vice President of Marketing for Telemundo and Senior Vice President of Sales and Marketing for Azteca TV Network.  He's been the driving force behind several of the most successful media marketing campaigns on television over the last decade.   His writing has appeared in The New York Times, Ad Age, Ad Week, Media Week as well as major industry and trade publications.   Peter has been a volunteer at the Nyack library and founded and moderated the Nyack Library Opera Club for five years. He was recently appointed to the Library Board  to fill an unexpired term, and now seeks election to a full term.
Mark Dery- A weekly user and strong supporter of the Nyack Library since moving to South Nyack in 1993, I believe the library is the heart of the Nyack community, a vital center of cultural activity. A journalist, book author, lecturer, and former NYU professor and magazine editor. My books about pop culture, American history, and technological change have been published by Duke University Press, University of Minnesota Press, and Grove/Atlantic; essays and articles have appeared in The New York Times Magazine, The New Yorker, New York, Rolling Stone, Elle, The New York Times, Salon, and Wired, among other outlets. Is currently writing a biography of the artist Edward Gorey for Little, Brown.
Mary Anne Evangelist- has been a resident of South Nyack since 1976.  She has served on the Orangetown Board of Assessment Review and the South Nyack Zoning Board, including many years as its chair.  Dr. Evangelist  is a member of the steering committee of Friends of the Nyacks, a member of the Friends of the Nyack Library, the Historical Society of the Nyacks, and Edward Hopper House Art Center, where she recently served as a docent for the Hopper exhibit, Prelude. She has also volunteered at the Information Desk in the Nyack Library and maintains the website for Our Lady of the Sacred Heart Church in Tappan.
Professionally, Dr. Evangelist has been a teacher, guidance counselor, principal and Assistant Supt. of Schools for over 40 years.  In these positions, she has been responsible for managing over 100 employees and for drafting and administering multi-million dollar budgets.  Currently she is an Adjunct Professor at Long Island University's Orangeburg Campus and is filling the position of Interim Ass't. Supt. of Schools in Rye.  She holds a BA from the College of New Rochelle, an MA from Manhattan College in Counseling, and a Ph.D. from Fordham University in Education.  Recently appointed to the Library Board  to fill an unexpired term, she now seeks election to a full term.
Mark Hussey- has been a resident of Nyack since 1992.  He has volunteered at Rockland Parent-Child Center, has served on the curriculum committee for Nyack Public Schools,  and is a team member for Soup Angels at the First Reformed Church.  He is Professor of English at Pace University in Manhattan, where he has taught since 1984, and holds a PhD from Nottingham University, UK. Since 1987, he has run Pace University Press, a small publisher of books and scholarly journals in the social sciences and humanities. He is a widely-published writer and editor whose work has appeared in the New York Times Book Review, the Times Higher Education Supplement, Modern Fiction Studies, and American Book Review.  He was first elected to the Library Board in January 2011 to fill an unexpired term.  On the Board, he recently was appointed to chair the Library Policy Committee.
See also: