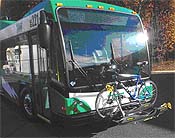 On Martin Luther King day, Mon Jan 16, Metro-North trains will run on a Saturday schedule.  All Tappan Zee Express (TZx), Transport of Rockland (TOR) and Clarkstown Mini-Trans buses will follow a normal weekday schedule.
These other bus routes will see service changes for the holiday:
Rockland County's TRIPS paratransit buses will operate A.D.A. service only.
COACH USA Shortline buses serving Suffern will operate modified Holiday service, with supplemental trips added to the normal Holiday schedule.

COACH USA Express (Exit 14) bus service will operate reduced service, with morning buses departing from Rockland approximately every 30 minutes between 6:00 and 8:35 am. Evening buses from Manhattan will also operate reduced service. Call (800) 631-8405 or go to www.shortlinebus.com.
COACH USA Rockland Coaches (Red & Tan Lines) bus service will operate reduced Express route service on routes #45, #47 and #49 and will operate modified Weekday schedules on Local routes #9, #9W, #11A, #11C and #20. Call (201) 263-1254 or go to www.coachusa.com.
Spring Valley Jitney buses will not operate.
Metro-North trains on the Hudson Line and Harlem Line will operate Saturday service, supplemented with additional trains.

The Haverstraw-Ossining Ferry will operate a modified schedule to coordinate with Metro-North trains. Call 511 or go to www.mta.info and click on Hudson Line Connecting Services for details.
For more info, vist mta.info for Metro North train service from Tarrytown or call the Rockland County Transit Information Center at (845) 364-3333, Monday through Friday, 9 am to 5 pm, for Rockland County routes, transit inquiries. The Information Center and the Photo ID Card office will be closed on January 16th.