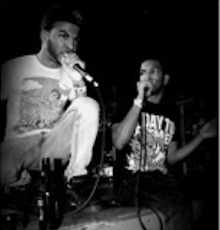 by Max Cea
Nyack's Tron! and DVD are far from your traditional hip-hop duo.  Most artists come from big cities but they grew up in a small village.  The brothers' lyrics are accordingly suburban. Yet, the process by which Norvin (Tron!) and Darian (DVD) Van Dunk have created a hip-hop network in Nyack is very similar to some of the earliest and most acclaimed rappers.
Historically, there have been a few cities that have produced rap's biggest stars.  This may be because these urban centers have provided their troubled youth with a lot of material to write about.  Or maybe it's because many of these stars grew up in close proximity to each other, fostering a rap culture.  For instance, the Queens Bridge housing project is arguably the biggest hotbed for hip-hop talent the world has ever seen.  It was home to some of the biggest names in hip-hop including Nas, Nature, Prodigy and Havoc (Mobb Deep), who all became wildly popular in the early nineties.
Today, in the digital era, it is much easier to produce, market, and share one's work with a large community of avid fans.    The combination of these factors has led to a large underground hip hop scene, filled with talented rappers whose backgrounds would have been unimaginable twenty years ago.  There is no denying that as long as rap music is popular, places like New York City will be major hubs of hip-hop.  However, in recent years, in small towns like Nyack, the underground hip-hop scene has been able to flourish.
Tron! and DVD are at the forefront of this movement in Nyack.  The duo has been rapping since they could talk, and recording since elementary school.  However, it was only a few years ago that they began to perform their work.  Since that time they have been moving at the speed of sound to try to perfect theirs.  The brothers have not done all of their work collaboratively, yet between them they have created seven mix-tapes, and they are currently performing roughly one show per weekend.
Tron! and DVD and are largely responsible for the creation of Sick Life Music, a collaborative and supportive group of local rap artists. "It's nine people who just make music together, do shows together, and help each other out," says Norvin. They have collaborated on a variety of songs and many members have performed in the same shows together. But the helping hand that Tron! and DVD have lent out has extended further than Sick Life.  They have recently helped up-and-coming Nyack-based artists, Empty Pockets and Sam Elliot, with their respective mix-tapes.
Tron! acknowledged the budding talent around Rockland, but he describes himself as a "one-upper," and claims that listening to everyone around here fuels him to want to top them.  DVD, on the other hand, is more laid back, and laughs it off when Tron! glorifies himself.  Though when they rap, you would think their personalities were switched.  Both are versatile in style, yet DVD has the deeper voice and comes across as the darker rapper.  Nevertheless, their versatility has translated into a broad range of work from the up-beat Adventure Time that brings the listener on a journey, to the wrestling themed Tronamania, to the occasional party song, to high intensity songs that feature samples from Coheed and Cambria and Watchmen.
The duo has amassed a rather impressive body of work and has played in renowned venues like Webster Hall.  In 2011, they played at New Jersey's Bamboozle Music Festival, a three-day event featuring established artists and new groups who compete for a chance to showcase their talents. Darian said the Bamboozle show was the greatest moment of his life. "It was unreal," said Norvin. "It felt like you made it."
Although they are proud of their place in Bamboozle history,  they left the stage feeling unsatisfied with their performance.  "It was like winning the musical lottery and then blowing it," said Norvin. The pair admits that they probably weren't ready for such a big venue and their sloppy performance was due to being overly excited.
Performing Bamboozle is arguably the greatest accomplishment of any Rockland-based rapper in recent years.  Tron! and DVD are performing in local contests and hope to get a shot at redeeming themselves at the 2012 Bamboozle Festival.
Tron! and DVD fans have open access to the rappers through Facebook and Twitter (@ThisisTron and @superdarioworld.)   The pair promise to always respond tweets from fans and will even arrange transportation for anyone who needs a ride to one of their shows.
Whether the duo gets into the 2012 Bamboozle Festival or not, fans have a lot to look forward to in the upcoming year.  Primarily, the duo will be releasing their first album, which will be a sequel to Adventure Time, and will only contain original beats.  Moreover, as a resident of Nyack, it is an exciting time to be a hip-hop fan.