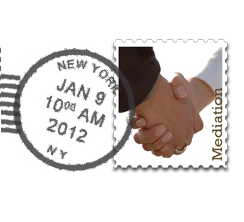 by Julie Loesch
Last year, community dispute resolution centers helped 100,000 people resolve conflicts that decreased the caseload for the overburdened court system and helped reduce conflict in our community. Last year's state budget crisis forced deep cuts to funding for this worthwhile program. In response, the Westchester and Rockland Mediation Centers are leading a statewide, online advocacy campaign to restore funding for New York's mediation programs.
The goal of this campaign is to collect more than 5,000 electronic signatures statewide that will be sent to the Honorable Jonathan Lippman, Chief Judge of the State of New York requesting that mediation funding be restored in the upcoming state budget.
This campaign asks the court to consider whether reducing funding for mediation centers is cost effective.  The cost of a mediation case at a local center averages $300.  Even the most minor court action will far exceed that cost making the choice to fund mediation a cost-saving measure for the Court.
Families and businesses in the Lower Hudson Valley will feel the effect of these cutbacks. The Westchester and Rockland Mediation Centers, which operate this program in both counties, received a 40% cut in funding.
For more information and to fill out an online postcard, visit CFSBny.org.   The entire network of mediation centers is simultaneously asking supporters in all 62 counties to join in the call to action.