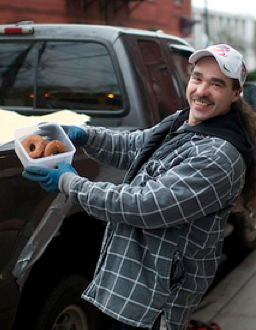 by Dave Zornow
Nyack, January 15 — The three local families behind Gypsy Donut and Expresso Bar want their new Nyack business to be a community effort. The entrepreneurs are asking family, friends and village residents to support their efforts to open in late March in the space formerly occupied by Gracie's Ravioli on Franklin Street.
Gypsy Donut founders are asking supporters to pledge funds through the "crowdfunding" site Kickstarter. Pledges are recorded, but credit cards aren't debited until Gypsy Donuts reaches their $10,000 goal. The entrepreneurs must meet their goal by Feb 1 or they will forfeit the pledged funds.
You might call their cause "Give me a donut… and a dream." If you want to root for the home team and help them open their doors, visit GypsyDonut.com and click Support Us.
David Schloss, one of the three co-owners, says Gypsy's handmade donuts and top-tier coffee will complement, not compete with existing Nyack businesses. "Great donuts are a niche that hasn't been filled," says the Nyack native.  Schloss thinks their shop can help continue to grow  Nyack as a food destination in the Lower Hudson Valley. In addition to financial support from the community, local restaurants like Hudson House and Nyack Gourmet have shared equipment and support with the startup.
"We really believe in Nyack," says Schloss "and the power of the small town and small business to spur economic and environmental change." That's why, he says, Gypsy Donut will work with groups like the Nyack Center and local food pantries and other organizations. Leftover coffee grounds, for example, will be given to the community garden and the shop will be host to programs on baking and small business development.
"We're building out the space using environmentally friendly materials and recovered and recycled items," says BJ Allen, one of the partners. "We just stripped the paint off the walls using a completely non-toxic stripper'€"it doesn't produce any volatile organic chemicals. Our counter will be built using reclaimed steel and poured concrete and our bar rails was reclaimed from historic building demolition in Nyack."
The families hope that fresh handcrafted donuts and unique toppings and flavors can break into the competitive "coffee bar" business in Nyack where customers can now get a cup of Joe at the Art Cafe, Nyack Gourmet, Johnny Cakes, the Runcible Spoon or Starbucks. Schloss says Gypsy will be the exclusive retailer of the premium Stumptown Coffee brand in Rockland County. Stumptown, a Portland based coffee roaster, has a reputation for cultivating relationships with growers around the world and paying top dollar for the best beans available. Gyspy will get their beans the day after they're roasted in Stumptown's Brooklyn facility.
The Gypsy Donuts Kickstarter site asks supporters to invest as little as a dollar in their fund raising effort. The families are almost 90 percent of the way to their $10,000 goal with almost 100 different backers having made a contribution.
Investors get more than donut dreams for their dollar investments. For $1, supporters get a mention as a corporate backer. For a $25 pledge, contributors get a t-shirt and a free donut each month for year.  Bigger backers get bowling shirts and lifetime supplies of donuts, coffee — and eternal gratitude. Schloss says their startup has received contributions as little as a dollar and as much as $1000.
Although many have tried, almost as many have failed to get their new business past year one in Nyack. The partners know they will have some tough times and that success is far from assured. However, they feel like experience is on their side. Danielle and Matthew Watson, who own Eyevolution Optique on South Franklin, have eight years in the retail business. The family of partner Maia Allen has managed catering trucks for their entertainment industry. Schloss, along with his wife Abigal Anderson, is a serial entrepreneur and a closet foodie, who brings expertise in marketing, social media and photography.
If their effort takes off, Gypsy Donuts has some uniquely Nyack marketing ideas. "During the summer months, we'd like to set up a donut delivery service by bicycle," says Schloss, the one-time founder of the Rockland Bike Club. He also hopes to be a co-sponsor of the Friends of the Nyacks Mostly Music series, and convert a corporate vehicle to run on bio fuels produced by cooking oil waste.
Gypsy's founders are hoping to push the donut envelope with new flavors and toppings and are hoping to get the community's help to do that, too.  Suggest a donut (and reserve the naming rights!) by visiting GypsyDonut.com, emailing yummy@gypsydonut.com or by calling 855-GET-DONUT.