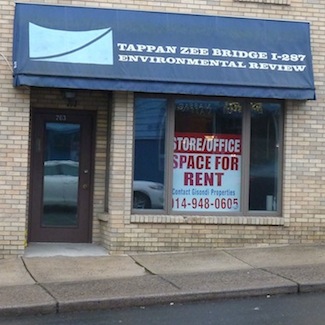 StreetsBlog is running a caption contest for one of the empty storefronts in Nyack. Like many small businesses with a "For Sale" sign in the window, this shuttered storefront started with high hopes and ended with broken dreams.
The Tappan Zee Bridge I-287 Environmental Review space has been closed for some time. It was part of a community outreach program for the now deprecated original 30 mile project, which had covered a 30 mile corridor with both road improvements and mass transit components. A bridge-only effort, called the Tappan Zee Hudson River Crossing Project, was substituted for the original plan last October.
Some of the caption nominations include:
Tappan Zee Outreach Gone Fishin'
The Andrew Cuomo Office of Transparency and Sustainability (Closed)
"We are preparing for the $30 tolls by moving offices to the other side of the bridge"
"Like a (troubled) bridge over troubled waters…"
Public office for rent
"Never underestimate the power of a shiny dangling object".
Coming soon: Casino!
Have a nomination? Share it here or at StreetsBlog.org.
The As Others See Us series looks at stories about Nyack and Rockland County in from the perspective of media outside the Lower Hudson Valley.
Source: Caption Contest: Tappan Zee Outreach Gone Fishin', Streetsblog 1/27/2012
See also: Tappan Zee Hudson River Crossing Project
Photo Credit: Streetsblog