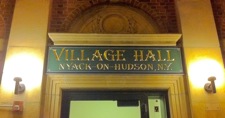 Nyack, Dec 8 — Tonight's regular meeting of the Nyack Village Board includes a public hearing to amend the village code regarding excessive noise. The legislation is in response to repeated complaints from residents and adjacent restaurants about excessive noise from establishments on Main Street in downtown Nyack.
You can read the full agenda at Nyack-NY.gov.  The proposed legislation can also be found online on the village's Website. The meeting is scheduled to take place at 7:30p in Nyack's Village Hall.
PUBLIC COMMENT (3 minute limit per person)
Denise Hogan (Pow'r Against Tobacco) '€" Tobacco Free Park creation
Gary Miller (90 Sixth Avenue) '€" Tree removal request
REPORTS TO THE BOARD
Orangetown Police Department
Village Administrator
-Traffic Study
-Marina Parking lot
Village Treasurer
-October 2011 Financial statements
Village Attorney
-Riverspace MOU
Village Clerk
– LGRMIF Grant
PUBLIC HEARING (if any)
8pm – To amend Section to the Code Village of Nyack, Section 35-4, entitled '€œNoise'€.
Marina update
23 Main Street
Emergency Notification System RFP