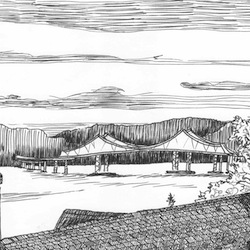 Statements by a leading Hudson River environmental group and a Rockland County Assemblywoman this week offered opposing points of view on building a new Tappan Zee Bridge. Riverkeeper, an organization dedicated to defending the Hudson River, "expresses extreme concern" about the project, saying the revised plan doesn't address traffic congestion and pollution and has the potential to cause needless destruction to the Hudson River. Assemblywoman Ellen Jaffee (Suffern '€" D) says "the governor's expedited plan will bring us jobs, build a safer bridge that preserves mass transit options, and do it all with construction starting in one year."
Riverkeeper, represented by Pace Law School's Environmental Litigation Clinic,  submitted their comments to the NYS Department of Transportation as input to the TZB environmental impact statement. Jaffee published her position in an op-ed article in the Journal News on November 27.
Riverkeeper says that after an exhaustive nine year process to take public input and develop plans for upgrades to the bridge and I-287, the public isn't being given time enough to participate in the revised bridge-only plan. Riverkeeper has expressed concern about the lack of previously promised mass transit and insufficient funding to assure that the environment won't be impacted.
'€œWhy are the lead state and federal agencies even bothering with an environmental impact analysis when they've already decided what they're going to do: build an on-the-cheap, no-mass-transit bridge that does unnecessary damage to the Hudson River and nothing to help with traffic congestion or reducing carbon?" said Paul Gallay, President of Hudson Riverkeeper. Gallay says New York and the Federal Highway Administration are missing an opportunity to bring the region's transportation system into the 21st Century.
Jaffee cites current congestion and further delays as the rationale for endorsing Governor Cuomo's bridge only initiative. "After years of study, it has become abundantly clear that any further delay in replacing this bridge will put the safety of commuters at risk," says Jaffee. "Every day, more than 138,000 vehicles drive across the Tappan Zee Bridge, making it one of the most heavily used bridges in the state. The governor's plan for a new bridge directly addresses this concern, adding an additional lane to reduce congestion and standard-width shoulders for emergency vehicles and cars in distress," she says. Although there has been strong public support for building the bridge with mass transit, Jaffee counters by saying you need a new bridge before you can have mass transit. "Once the economy improves, we can revisit this issue and always add the highly affordable option of bus rapid transit, which offers the best solution to our needs: west-to-east mass transit."
Jaffee is the only elected official in the Lower Hudson Valley to publicly endorse the governor's plan. Public opinion, when it has supported the building of a new bridge, has been strongly in favor of including either bus, rail or both when the new bridge is built.
"It has been clear since at least 2000 that mass-transit along the I287 Corridor is an essential part of the traffic solution for the region," says Nyack Trustee Steve Knowlton. "The conversion of the I287 Corridor Project to the River Crossing Project and evisceration of the essential mass-transit option is untenable." Knowlton, among others, has expressed skepticism about Jaffee's claim that transit can be added later, using the George Washington Bridge as an example. "As for the promise of mass transit to be added later when funding becomes available: we've all heard that before. One need only look 20 miles to the South to witness a bridge still awaiting its promised, mass transit component'€"since 1931," says Knowlton.
Nyack resident John Gromada says he's frustrated with both the governor and the assemblywoman for ignoring the public outcry about a new bridge which experts say will make traffic congestion worse, not better. "They are telling us they don't really care about our needs at all. Nothing gets done in this country unless it puts money in the pockets of the wealthy people who finance political campaigns," says Gromada. "Ellen Jaffee is rolling over for Cuomo and failing to do her job to advocate for transit investment for our district," he says.
See also:
Sketch of the Tappan Zee Bridge by Bill Batson Copyright 2011