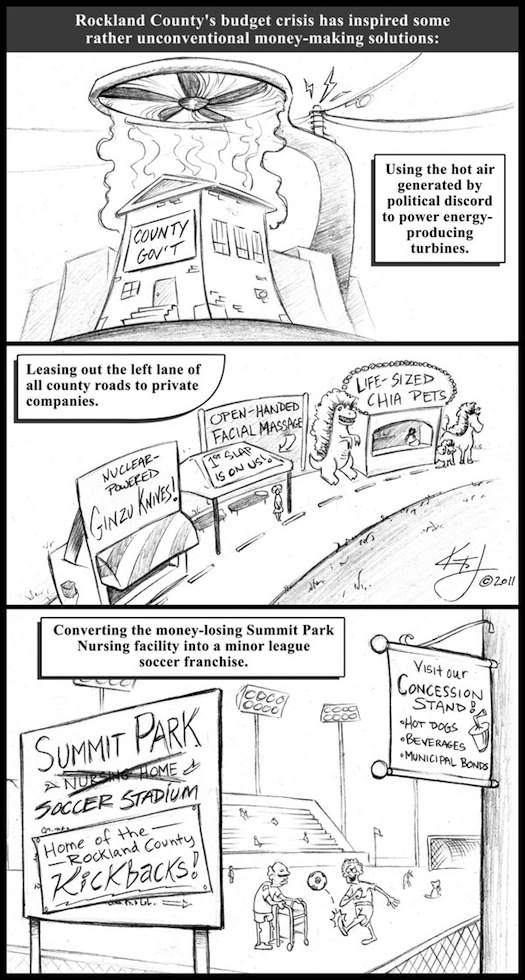 by Ben Wilcox
This week the poli-talk was about tax hikes in Rockland, tax cuts in New York, the Tappan Zee and the end of the War in Iraq.
The 2012 Rockland County budget will include higher taxes and fewer county employees. The average homeowner owner will pay $175 more in property taxes. Pending approval of the state legislature and governor, the county sales tax will increase 4.125 percent, an increase of .375. Rockland will save $1.9 million in 2012 by laying off 40 county employees. But that's only .27 percent of the overall budget; the county will still need to to find an additional $18 million more in savings to close an expected 2012 budget gap.
Over four million NYS taxpayers will pay less to government because of a restructured New York State tax code. "I proudly voted for this common sense legislation that will put more money in the pockets of middle class families," wrote NYS Senator David Carlucci in a Wed op-ed piece.  The legislature also reduced the MTA payroll tax for about 6,900 small businesses in Rockland County.
Local elected leaders  joined with pro union, environmental, and business groups to voice their opposition to the governor's planto build a new Tappan Zee Bridge without mass transit. The non-profit Tri-State Transportation Campaign (TSTC) issued a press release called "Transit­less Tappan Zee Bridge Would be Obsolete from Day One'€ which included Rockland County Executive Scott Vanderhoef, Nyack Mayor Richard Kavesh, Senator David Carlucci and Assemblyman Kenneth Zebrowski (New City '€" D).
Carlucci is running a one question poll on his NYS Senate Web site to gauge public opinion on the need for mass transit on a new Tappan Zee Bridge.
Eight years after George Bush claimed "mission accomplished," the US declared an end to the War in Iraq this week. "The President fulfilled his campaign promise to end the war," said Congressman Eliot Engel (D-NY-17), senior member of the House Foreign Affairs Committee. Engel also expressed his hope that the troops in Afghanistan will come home in the not so distant future.
Illustration: "It Takes A Village: Rockland County Budget Gap" Copyright Kipp Jarden, 2011