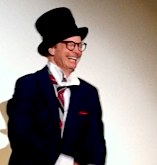 Nyack Dec 15 — Rivertown Film celebrated its tenth anniversary last night with a little bit of clowning around at The Nyack Center. Village resident and renowned actor, choreographer and master of physical comedy Bill Irwin was on hand to introduce two silent film classics, Charlie Chaplin's "Easy Street" (1917) and Harold Lloyd's "Never Weaken" (1921).
Irwin, a leader in the renaissance of American circus during the 1970s, wowed the audience with some snippets of a college master class course he has been teaching. He explained some of the techniques of clowning, putting the work of Chaplin and Lloyd into perspective. The silent films — as well as Irwin's on stage antics — were accompanied by a live band, David Gross and friends, who improvised to the action on the stage and on the screen.
The films were selected to complement Rivertown's first event ten years ago, a screening of another silent film, Buster Keaton's "The Cameraman."
Rivertown Film shows movies twice a month at the Nyack Center. Their mission is to "celebrate, explore and promote the art of the motion picture through film screenings and educational programs….enhance audience appreciation of the motion picture and encourage support for filmmakers and the local film community." For more information, visit RivertownFilm.org.