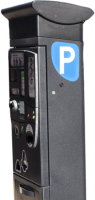 by Owen Voutsinas-Klose
Have you ever got a parking ticket in Nyack?  It is pretty annoying and can cost $15 and up for any of the offenses.  One possible solution to this problem is to have residential parking passes.
Residential parking passes are stickers for Nyack residents that would allow villagers to park in downtown Nyack without needing to put money in the Munimeters. From the point of view of the village government, they are a good idea also because the fee for a pass can raise funds for the government.  The village government can charge a annual fee for these passes.
The pros of this idea are immense: stress-free parking for people who live and work on Main Street and the side streets that are currently metered.  These passes shouldn't be mandated because some residents may not want to park on the metered streets and would be paying for something they would not use.
Residential parking passes are a money saving opportunity for residents and a money making opportunity for the village.
If you have any comments or questions, please do post them.
Editor's Note: Nyack-NY.gov says there's is a Nyack Resident Only Parking Permit available for the Municipal Parking Lot (located on Main Street by The Riverspace Theater) for $25/year. This permit lets residents park in that lot during the 3-6am overnight hours. This permit does not allow the holder to ignore the metered parking rules.
See also: