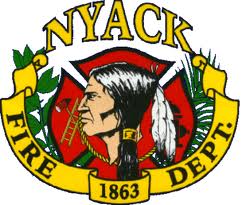 Nyack, Dec 12 — For the first time in recent memory, the Nyack Fire District election is getting some notice. The annual election will be held on Tues Dec 13 from 3p-9p at two fire stations in the Village of Nyack.
In the past, fire district elections have not been publicized beyond the fire district membership. Last year, the Village of Nyack didn't learn about the scheduled election until the day polls were open. '€œI'm the mayor, and I didn't hear about it until a few minutes ago,'€ said Nyack's Mayor Richard Kavesh on Dec 13, 2010.
Jim Scully and Jay Phillips, two former fire chiefs, are running for one open five year term as fire district commissioner in Tuesday's election. Anyone who lives in Nyack, Upper Nyack, South Nyack or Upper Grandview can vote at either the 11 Park Street Fire House (if you live north of Main Street) or Depew Manor (located at 60 Depew Avenue for residents who live South of Main Street).
According to the Journal News, the proposed 2012 budget for the fire district is $1.7 million a year — about $150,000 less than the current year. That works out to between $300-400 per year in annual property tax per households. All members of the Nyack Fire District are volunteers.
There are eight active fire stations in the Nyack Fire District — an unusually large number of fire houses for a relatively small geographic area. Because of Nyack's hilly terrain, it was important to have separate fire houses at the top of the hill as well as along the river because of the challenge of moving fire equipment in the 1800's when many of these companies were first formed.
Statistically speaking, the Nyack Fire District is probably one of the safest areas in the country. Among the approximately 14,000 people who live in the communities in the fire district, there is one fire house for every 1750 people. Nyack's coverage is 24 times greater than New York City, where there is one fire house for every 42,000 people.
Although the community is proud and very supportive of  its all-volunteer fire crews, there has been friction between residents and the fire district over the use of fire sirens which many say disturb the peace 24/7 and would seem to be superfluous in the 21st century. When elected officials have received complaints from residents who question the need for fire whistles, they say the decision to use sirens is out of their hands and belongs to the fire district. Last month, an exchange of views between residents and fire department supporters about the need for sirens got testy and was abruptly terminated on the Website Patch.com.
Sources: