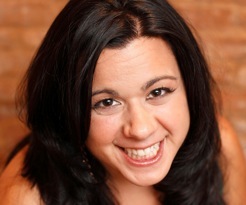 by Peggy Boyce
If Harvey Fierstein and Brenda Vacarro had a child, she would probably sound a lot like Regina DeCicco. The New City resident hails from the Rockland County family that owns a chain of supermarkets, but DeCicco says she was never destined for a life in groceries. Instead, she has turned her talents to comedy and performing standup. '€œAlthough my family gives me great material for my act,'€ DeCicco admits.
DeCicco is wowing audiences in the Hudson Valley and New York City with her unique brand of humor. She won the inaugural Lower Hud's Funniest Competition last Summer besting thirty other local comics. As a result of the exposure, DeCicco is now being booked at colleges and making more appearances at top comedy clubs in New York City.
On Dec 31 DeCicco will MC a New Year's Eve at Slattery's Landing in Piermont, sharing the stage with major headliners, like Patty Rosborough (VH1, Showtime, Montreal Just for Laughs Festival, BBC's "The World Stands Up") and West Nyack native Brett Eidman (Second City in Chicago, Saturday Night Live, Imus in the Morning).
"I'm excited to perform on New Years Eve at Slattery's in Rockland County alongside one of the funniest women in comedy today," said DeCicco.
Rockland Magazine recently named DeCicco, one of the county's '€œup-and-coming celebs.'€ It wasn't completely based on her impression of South Park's Eric Cartman — but it's a laugh-out-loud bit that shouldn't be missed.
Peggy Boyce is a talent agent and the founder and creative director of the Lower Hud Comedy School.
DeCicco, Rosborough and Eidman will perform at a New Year's Eve show at Slattery's in Piermont, NY. Dinner seating is 9:30p and show begins promptly at 10:30p. The cost is $80 per person and includes a four-course dinner, champagne toast, giveaways and comedy show. For more information and reservations, call 845-398-1943.