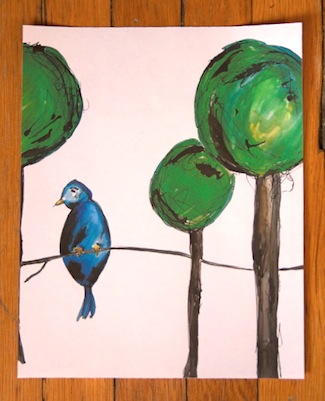 by Jocelyn Jane Cox
I recently acquired a limited edition print by Nyack artist and illustrator, Shawna Handke. It's called, '€œThe Lone Bird and his Trees.'€
I first saw Shawna's work at the new location of Maria Luisa Boutique on South Broadway last February. While Maria was getting the new space ready, Shawna's large-scale illustrations were covering the windows, creating quite a bit of intrigue.
Shawna started her Etsy site in 2006, when the site was still relatively new. She told me that she had the opportunity to go to the offices in Brooklyn and meet the founders '€" Etsy has been a great way to share her work.
Shawna grew up in Beloit, Kansas, the oldest of four, with three younger brothers. Their father was a mechanic who worked with his hands and was always creating things. '€œWe didn't have a lot of money, so we always took what we had and made it work. So there was always a sense of innovation.'€ In school, Shawna took as many art classes as she could.
She originally attended Fort Hays State University, where she studied Graphic Design, but she wasn't sure what she wanted to do, so she took a year off and worked as a paraeducator with severely handicapped kids. '€œThose kids taught me more about myself than I could have ever learned in college or anywhere.'€
She eventually moved to Omaha and met her husband, Luke, through a mutual friend. Shawna was attending Grace University and Luke was a graduate student at the University of Nebraska Medical Center studying microbiology. She was encouraged by the new love of her life to finish her art degree. '€œThis is where my passion was and I decided to simply study painting. I was a much better student and more focused by this point in my life. So after a year or so, I graduated with my Bachelor's Degree in Art.'€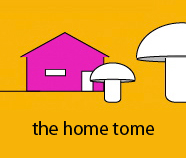 A few years ago, her father's heart suddenly stopped back in Wichita. Shawna immediately flew back from Boston to be with him. She always has some artwork with her and she showed him some of her current pieces. He told her he liked what she was doing and he was thankful that she was making art again. He died a few days later. Shawna says that was a turning point for her and solidified what she was doing.
Shawna is continually inspired by the nature around Nyack, the community, and everyday activities. She's also inspired by her son, Oliver, who is 2 and who loves animals. '€œIt is great to meet up with other kids, either on the playground or downtown. They are so creative.'€ Oliver dressed up as an owl this Halloween (with felt feathers made by Shawna).
Meeting people like Shawna is one of the many reasons I love Nyack, so it is extra special to now own a piece of her work.
Thanks to Shawna, the Lone Bird, his handsome trees, Maria Luisa's and, of course, to Nyack for bringing us all together!
Jocelyn Jane Cox is a local freelance writer who writes TheHomeTome.com, a home and humor blog with a Nyack slant.