by Kipp Jarden
The plans to fast track a new Tappan Zee Bridge don't include any of the previously promised trains or buses to ease congestion. But they do include shoulders and a dedicated lane for emergencies — be they political or otherwise.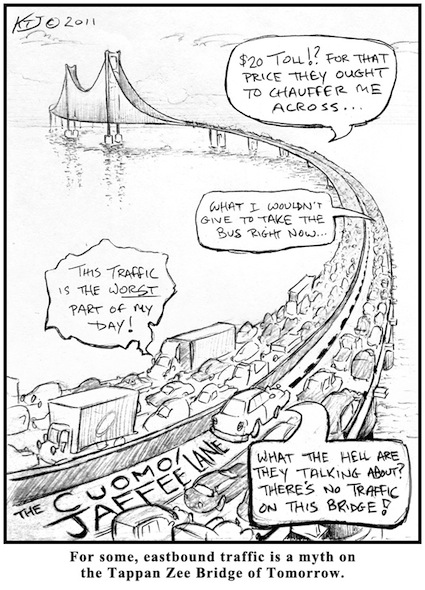 Illustrator Kipp Jarden is a Nyack native with a BFA in animation from Savannah College of Art and Design who has a passion for creating visual art, especially in traditional forms such as hand-drawn animation and illustration. '€œIt Takes a Village: Tappan Zee Bridge Fast Track'€ #20111204 Copyright 2011, Kipp Jarden
Sources:
Note: No announcement has been made on the price of future TZB II tolls, but in October 2010 a NYS Thruway planner speculated that they could run as high as $15 to bond $2 billion. The plan proposed last month suggests bonding a much higher number.