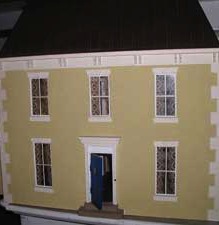 A two-story Georgian Revival Style house, with a living room, hall, kitchen, two bedrooms, bath, and furnished attic can be yours for the holidays. But you can't buy it or move into it. Unless you are very lucky or very, very small.
The Historical Society of the Nyacks is raffling a hand-crafted dollhouse with furnishings, made by the late noted artist and miniaturist Helen Norman of Sneden's Landing. Proceeds of the raffle will benefit the work of the Historical Society, whose aim is to promote interest in local history.
The dollhouse is on display next to the circulation desk at the Nyack Library and tickets may be purchased there.  The drawing will be at the Library at 4p on December 22.
The Historical Society of the Nyacks collects and exhibits artifacts related to Nyack history, publishes books and a scholarly newsletter, and maintains a small museum in its headquarters in the Depew House at 50 Piermont Avenue, Nyack.  Its current exhibit is of enlarged prints of photographs of the Nyacks taken in the 1890's and will be open from 1:00 to 4:00 on December 17 and 18.
Tickets are $5 each or five for $20. Purchase your tickets at the Nyack Library or mail your check payable to the Historical Society of the Nyacks, Attention: Betty Perry, 319 N. Broadway, Upper Nyack, NY 10960
Contact:  Betty Perry wandbperry@msn.com or call (845) 358-0552