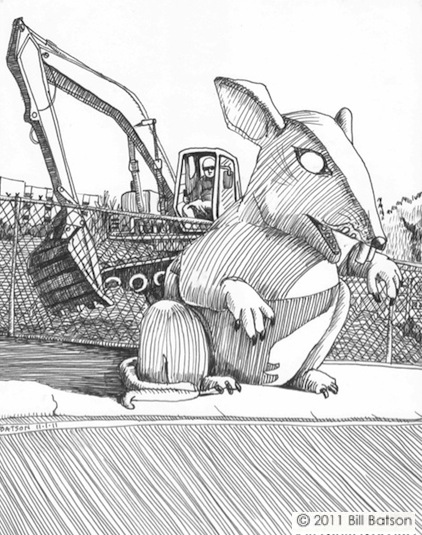 It's Day 3 of the "Issues for Nyack, Rockland and Beyond" year-end survey sampling public opinion about stories in the news over the last several months. Please take two minutes to complete the nine question survey and let us know what you think about issues like the Tappan Zee Bridge project, Occupy Wall Street, fire sirens in the Nyack Villages and…labor unions.
What follows is an op-ed article about one of those subjcts from the business manager of Laborers Local 754 about picketing at the construction site for Walgreen's Drugstore at Main Street and Midland Avenue.
Read the post. Take the survey. And feel free to share any comments.
WHY WE PICKET WALGREENS
by Stephen J. Reich

We Are Your Neighbors
Members of Laborers Local 754 live and work in Rockland and surrounding counties. You may have seen us picketing a construction site on the corner of Route 59 and 9W to protest the unfair labor practices of Walgreens and their contractor, the Bannett group.

Our Grievances Against Walgreens
Walgreens, once a family owned responsible business, has become another corporation run with no consideration for maintaining a standard of living. The company has posted gross profits in the first and second quarter of 2011 of $580 MILLION and $515 MILLION respectively. They are currently in the process of building two new stores in Rockland County. The stores will be located in Spring Valley and Nyack. Walgreens has contracted with the Bannett Group, LLC. to oversee the construction of their stores.

Our Grievances Against the Bannett Group
The Bannett Group insists on using contractors that undermine area wage and benefit standards and employ workers from outside Rockland County. These workers and companies have no respect for our area or the people who live here.

Our Goal
The mission of Local 754 is to manage the benefits of local construction workers and to promote construction projects that use skilled labor and follow Occupation Safety and Health Administration (OSHA) safety training procedures and prevailing wage rates.

As a private construction union, Local 754 negotiates collective bargaining agreements (CBAs) with local contracting organizations. That CBA is usually a three or four year agreement where an hourly wage and benefit amount is agreed upon. With these funds, the union provides wages, health insurance, training, pension, and deducts dues to support organizing and local charities.

The workers that you see on the picket line outside the site of the future Walgreens are eager to work. In this economy, we must ensure that any business that makes a profit in our community hires people from this community. The wages of local workers stay in this community.

What You Can Do
Call Walgreens at (800) 925-4733, follow the menu instructions. We believe Walgreens changes the option when complaints arise. Press the appropriate number for customer service and let them know you will not support stores built with companies that employ workers from out of the area and pay wages below the area standard.

Please support Laborers Local 754 in our struggle to protect the middle class in Rockland County.

Stephen J. Reich is Business Manager for Laborers' Local 754.