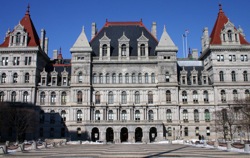 by Cliff Weathers
Albany, Dec 8 — Almost in the blink of an eye, New York Governor Andrew Cuomo called for tax-code reform, got support from key State Senate Republicans, and had his plan approved in a marathon legislative session.
Late Wednesday night, the Republican controlled NYS Senate unanimously passed Cuomo's plan to jumpstart New York's economy. Soon after, the Assembly debated the legislation, overwhelmingly passing it at about 1a.
'€œMiddle class New Yorkers will have more money in their pockets and small businesses will no longer have to pay the job-killing MTA payroll tax,'€ said State Senator David Carlucci( D-Nanuet ). The legislation includes a $250 million payroll tax cut for businesses in the MTA region and tax credits for employers hiring inner-city youth.
The two bills also include a revamped state tax code, which the Cuomo claims will generate $1.5 billion in desperately needed revenue. Some of the revenue is set aside to deflate New York's expected $3.5 billion deficit. It also increases state spending on health care and education. The new code means tax cuts for those making above $40,000. The state's current tax code places an undue financial burden on middle class families. The tax-code reforms should result in 4.4 million New Yorkers receiving a tax cut.
Even the most optimistic political observers expected this bill to be debated and voted upon in January. The discussion revolving around it only started to take shape last week, and Cuomo's exact stance on tax-code reform was pretty much unknown until a few days ago. But now the legislative process for budgeting'€"known for its delinquency in the past'€"is partially completed.
"We just did 50 percent of the budget. Right? When you agree on revenues, which we just did, when you agree on education funding level, and you agree on the Medicaid funding level, and we have a spending cap, you basically agree to the parameters of the budget," Cuomo said.
But the process is far from over. State Senate Republicans will undoubtedly seek more spending and tax cuts after the holidays.
Cliff Weathers publishes the political and community affairs blog, Left Of The Hudson.