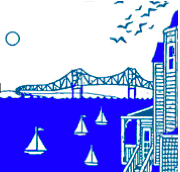 by the Chamber of Commerce of the Nyacks
The year 2011 has been challenging for businesses, families and workers across the United States. Despite this, here in Nyack, we're fortunate to have an active and thriving downtown, many successful work-from-home entrepreneurs, several regionally significant non-profits, and thousands of energetic and engaged residents. Many of these people are members of the Chamber of Commerce of the Nyacks.
The Chamber had an exciting year, and it's our hope that we've contributed to keeping Nyack a bright spot in Rockland County and in the tri-state region. This year, as in past years, we sponsored five major events '€" Springfest, the Farmers' Market, Septemberfest, the annual Halloween Parade, and the Holiday Lights tree lighting '€• as well as ten After Hours business networking meetings. Here are a few highlights:
Nearly 40% more vendors displayed their wares in Nyack's Springfest and Septemberfest street festivals. As usual, these fairs attracted upwards of 25,000 people to downtown Nyack.
The Farmers Market survived flooding and rains, drawing a strong turnout and a wide variety of vendors every Thursday for seven months in the Riverspace parking lot. This market gives Nyack residents access to farm-fresh foods and gives local small business people an opportunity to compete with chain grocery stores.
The Halloween Parade continues to be the largest parade outside New York City. This year, the crowd was estimated at 20,000 people '€" up from 15,000 last year. After enjoying the event and ensuring entertainment, many parade-goers shopped in our downtown and ate in our restaurants.
Anyone who came to the Holiday Lights tree lighting knows that hundreds of children from the village were there to welcome the holiday season 'ۥ and St. Nick 'ۥ and many hearts were warmed by the holiday music sung by local choristers from Nyack High School and the Lower Hudson Valley Youth Chorus.
Our After Hours guest speakers this year included District Attorney Tom Zugibe, Orangetown Police Chief Kevin Nulty, Nyack Mayor Richard Kavesh (and all of the Village Trustees), Nyack Schools Superintendent Dr. James J. Montesano, Assemblywoman Ellen Jaffee, and representatives from the Red Cross of the Hudson Valley. These events continue to be the place to meet and network with Rockland County's prominent citizens and elected officials.
We look forward to running these events and more during 2012 '€• just one way we fulfill our mission of '€œbringing business to Nyack.'€
There will be much to come in the New Year. On February 2, 2012, the Chamber will celebrate its 55th anniversary with a celebration gala at the Nyack Seaport. Everyone who cares about Nyack is invited. We'll look at the history of downtown businesses in Nyack and enjoy a retrospective of 55 years of Broadway music performed by local talent.
Exciting new projects are also on the agenda for 2012. We're working with Friends of the Nyacks, ACADA, the Nyack Historical Society, Nyack Hospital, Nyack Library, Hopper House, the Rotary Club and the Village on an important joint effort to develop a brand for Nyack. You'll see the new brand on banners on the lightpoles to be erected on Main Street in the spring.
This year, the Chamber had 111 members 'ۥ a 22% increase over 2010. Renewals are under way for 2012, and we expect to expand our membership and our strength in 2012. If you run a business in Nyack 'ۥ or if you support business in Nyack 'ۥ we invite you to join us. We believe a strong business community makes a strong Village. The more members we have the stronger our voice will be. Please join us and make your voice heard!
For the year ahead, we're once again committed to the ongoing effort of bringing people to Nyack to patronize our shops and restaurants. We're committed to ensuring that the voice of local business is heard clearly at Village hall. And we're committed to doing everything we can to let everyone know how great a village this is.
We wish all of you and your families a safe and joyous holiday season and a prosperous 2012.
Sincerely,
Board of Directors
The Chamber of Commerce of the Nyacks
Scott Baird, President
Roger Cohen, Vice President and Treasurer
Nancy Phillips, Vice President
Paul Curley, Secretary
Carlo Pellegrini, Member at Large
Gina Cambre, Director
Marilyn Kaskel, Director
Mark Mangan, Director