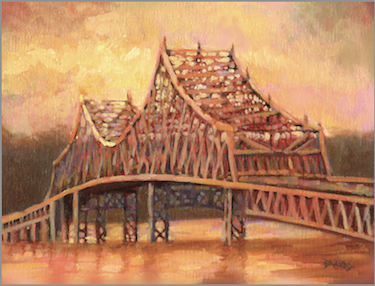 Hudson & Beyond, a show featuring Hudson Valley landscapes from two local painters, is now on display in the Café at Barnes & Noble.
The work of Tappan's Sue Barrasi and Sparkill's Heather Douglas will be on display at the Palisades Mall bookstore through mid-January, 2012. In addition to scenes from the Hudson Valley, the show includes oil paintings from the artists' travels abroad.
Barrasi and Douglas met when they joined the League of Our Own, an artist community in the Udelco building in Orangeburg, NY. From there, they started to paint plein air, exhibiting in juried shows throughout New York and New Jersey. They can often be found sketching the jazz musicians at the historical 76 House in Tappan on Wednesday nights. The award winning artists are members of Artists in the Park, a plein air group that paints throughout the area, raising funds for the Palisades Parks Conservancy. They also belong to the Edward Hopper House Arts Center, as well as various other art associations in the region. Included in the show are scenes from Tappan, Sparkill, and Nyack as well as landscapes of Ireland, France, Costa Rica and Italy.
For more information, visit SueBarrasi.com or HeatherDouglas.com.
Painting of Tappan Zee Bridge, "Faithful Lady" Copright Sue Barrasi, 2011.