by Dave Zornow
Nyack, Dec 30 — If a picture can conjure a thousands words, here are some of the more memorable photos, illustrations and graphics in 2011. Without further ado and the thousand words, here's our look back at 2011.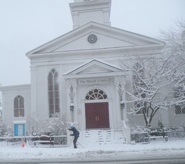 There was snow — and lots of it.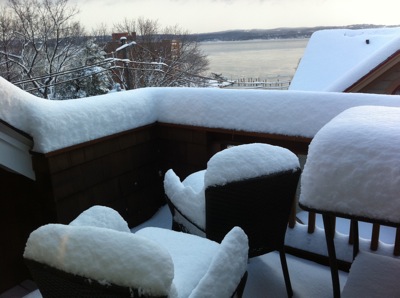 The first official snow of the year was on Jan 7. Followed by another storm on Jan 12. And quite a few more times after that, as you may recall.There was so much snow that even new-to-Nyack-area native Alaskans cried uncle.

Photo: Nyack Center in Snow,  2/10/10. Credit: Richard Kavesh
---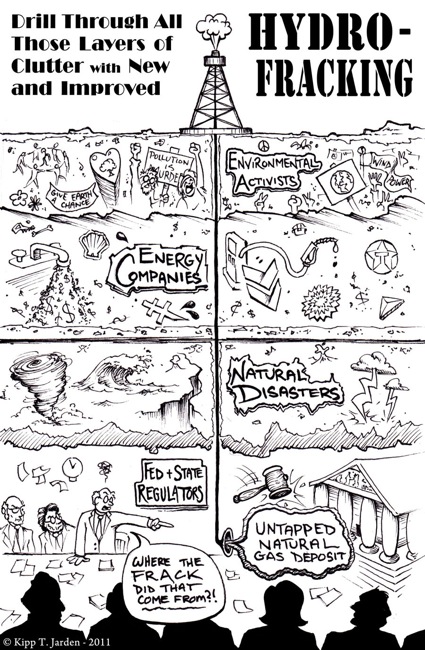 Hydro-fracking is a controversial mining technique which offers the promise of filling state revenue coffers with new tax income and our aquifers with pollutants. Who could ask for anything more?
The issue was also one of the first panels in a series of political cartoons NyackNewsAndViews introduced in 2011 called It Takes A Village," inked and authored by Nyack native Kipp Jarden.
---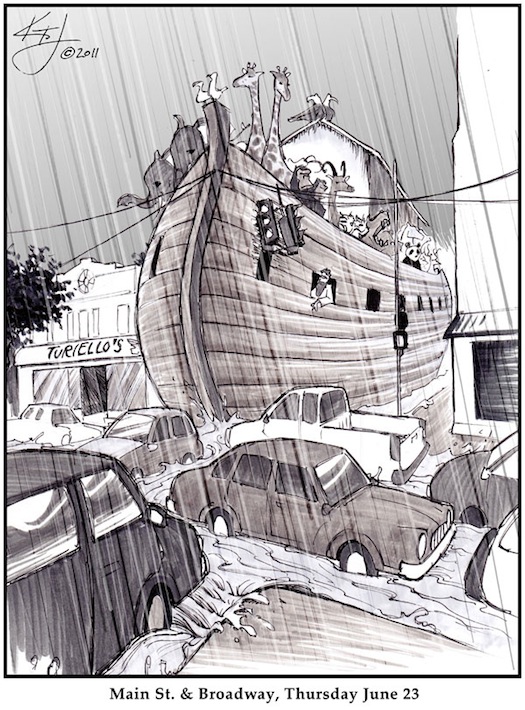 Rockland County was under a state of emergency on June 23, 2011 due to heavy rain and flooding which caused extensive damage to Riverspace and the lower level of the adjacent strip mall.
Just about the time that things where finally drying out, it all happened again a few weeks later on July 8.
Photo: Riverspace Flash Flood at Farmer's Market on 6/23/2011. Credit: Roger S. Cohen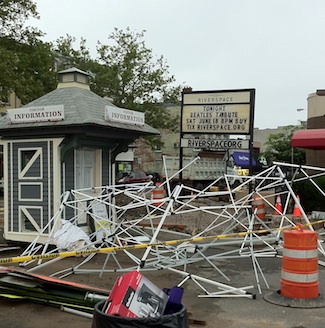 ---
2011 was the Year of Edward Hopper."Nyack helped form the vision of an artist who celebrated American solitude and the great quiet, the self-reliance, even the genius within," wrote retired journalist and Hopper House board member Arthur H. Gunther.
Part of North Broadway was renamed Edward Hopper Way and hundreds of Hopper fans came to visit the village.Kris Burns, an artist in residence at the Hopper House,  took Hopper out of the house and into the streets of the village with "Hopper Happens" events which included flash mobs, pop up projections and movies — including the retro September screening of Psycho on the side of the Verizon building in downtown Nyack.
---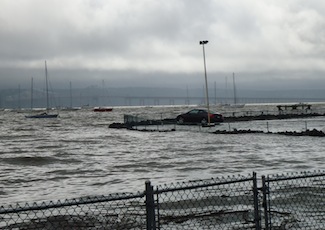 The remnants of Hurricane Irene came to town just before Labor Day, overstaying its welcome, flooding properties throughout Rockland County and leaving thousands powerless for up to a week.
Photo: Parking lot of Westshore Apts on Gedney Street in Nyack.
---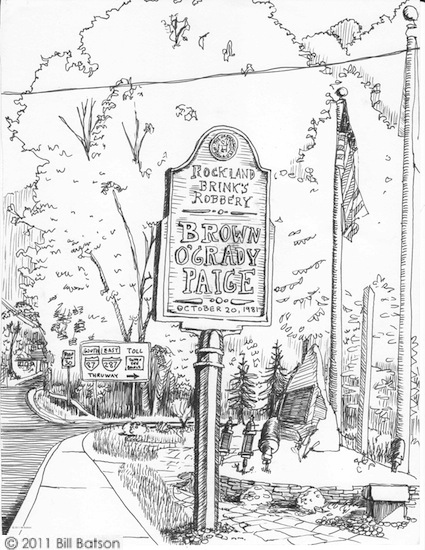 "Shared events define a community. The event has to be so overwhelming in its substance and scope that it becomes a link between strangers. In the years following a shared event, like an assassination, everyone remembers where they were when it happened. For the Rockland County community, the Brink's Robbery rises to that historic standard."– Bill Batson
October 20 was the 30th anniversary of the crime which shocked this community and a nation. Bill Batson, who created this illustration as part of his Nyack Sketch Log series, wrote about the event and how it impacted the village and his family.
---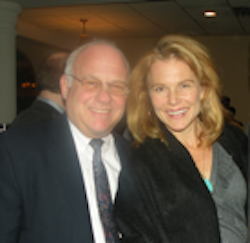 In the 2011 mayoral election, first term Mayor Richard Kavesh was defeated by Deputy Mayor Jen White.
The campaign highlights included the $11 Million Moment at the August Candidates debate (which the Journal News neglected to report) and the Riverspace sign controversy (which NyackNewsAndViews neglected to report) and the hijacked "Nyack First" ballot line (which everyone reported but we still don't quite understand.) There was also a stolen campaign sign controversy and a post-election-finger-pointing dustup about a rescinded-redacted Superblock funding grant proposal.
---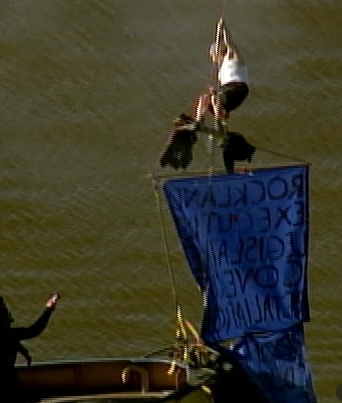 The nine years of planning and public meetings for a new Tappan Zee Bridge took an abrupt turn in October when Governor Andrew Cuomo announced federal fast-track approval to break ground on a new Tappan Zee Bridge beginning in the Fall of 2012.The governor is leading the way but taking a lot of heat for his plan sans the previously promised mass transit components.Public opinion is running against the governor and virtually every local pol but onehas announced their disapproval of building a bridge without either bus or rail service.
In a sign of protest on the bridge which had nothing whatsoever to do with the bridge, former Rockland County Mental Health worker Michael Davitt, 54, suspended himself from the Tappan Zee Bridge for three hours on Nov 7 displaying a sign critical of the Rockland County government.
Photo Credit:MyFoxNews.com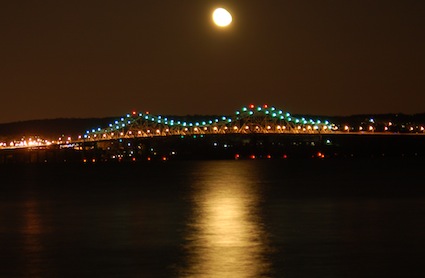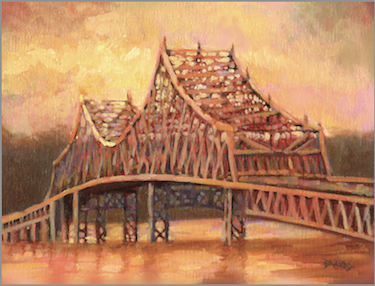 The oil painting "Faithful Lady," pictured on the right, is part of a collection of Lower Hudson Valley paintings by Tappan, NY artist Sue Barrasi on display at Barnes & Noble at the Palisades Mall through mid-January.
---
In December, NyackNewsAndViews partnered with ACADA, the Art, Craft and Antique Dealers of Nyack to create a cheeky advertising campaign reminding holiday shoppers of what Nyack's got and the mall can't offer.
It stressed two unique selling points about local businesses: the personal touch of village merchants showing their familiar faces, and some unique aspects of Nyack shops not available just up the road. Participating merchants included Maria Luisa Boutique, Gallery of Metal and Stone, Pickwick Books, Antique Masters, Hacienda, Chocolaterie, Hickory Dickory Dock, Lanterna Restaurant, Christophers.