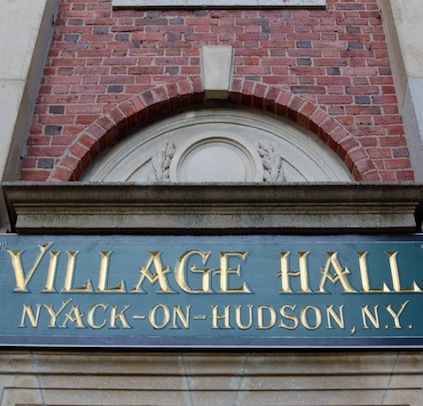 by Dave Zornow
Nyack, Nov 20 — On November 3, Nyack's Village Board voted to withdraw an application for an $11.8 million economic development grant because one of its members failed to get buy-in from his fellow trustees. But a second action, by another member of the board may  prove to be more serious: it ignored the advice of Nyack's legal counsel and may have also violated New York's law governing the behavior of elected officials.
At an executive session on 11/3, Nyack's trustees and mayor voted to withdraw an application they had previously filed with the Mid-Hudson Regional office of the Empire State Development Corp because the proposal had not been approved by the Village Board before it was submitted. The proposal sought partial funding for a downtown Nyack redevelopment project which would include retail, commercial and residential space as well as an arts component.
Because of time constraints to meet the grant application deadline, Trustee Doug Foster violated VB protocol when he submitted the application without a formal vote by the Village Board. Foster subsequently publicly apologized to his fellow trustees at the Nov 17 Village Board meeting.
The second wrong was committed immediately after the decision was made to withdraw the grant application. This misstep could potentially have bigger ramifications if it is found to have violated New York's Conflicts of Interest of Municipal Officers law.
According to several reliable sources, Nyack Mayor Richard Kavesh spoke to Journal News reporter Khurram Saeed and suggested Saeed file a Freedom of Information Act (FOIA, aka "FOIL") request to see the grant application that had been withdrawn. These events occurred right before the November general election where Kavesh was running for a second term as Nyack mayor. The executive session was Nov 3; the Journal News FOIL request was filed on Nov 4; the election was on Nov 8. Kavesh, who was on record as opposing any redevelopment unless it was to be 100% funded by a private investors, subsequently lost his re-election bid to Deputy Mayor Jen White.
Section § 805-b. of the NYS' law governing Conflicts of Interest of Municipal Officers and Employees says that "no municipal officer or employee shall disclose confidential information acquired by him in the course of his official duties or use such information to further his personal interests." The information FOIL-ed by the Journal News was confidential and the disclosure, right before Election Day would seem to have favored Kavesh's re-election bid.
Since publication of the Journal News story, Foster, who was a running mate of Jen White, has been excoriated for his actions in postings on a Facebook group called "Village of Nyack, NY" which is administered by Nyack's Mayor Richard Kavesh. Foster ran unopposed in the Nov 8 election.
Last September, Kavesh contacted the Journal News, NyackNewsAndViews and Patch.com and suggested that these news outlets file a Freedom of Information request to see responses from developers to a Request For Expression of Interest (RFEI) about downtown redevelopment which the Village Board previously had agreed not to release until their consultant could review the findings. In both the September and November incidents, the mayor chose to ignore the trustees and prompt reporters to FOIL documents related to the redevelopment project. However, the November breach of protocol was more serious because it was done against the advice of legal counsel. Because of pending litigation brought by the owner of one of the properties being considered for redevelopment, Nyack's attorney instructed the mayor and trustees not to talk publicly about the grant application or anything related to the downtown redevelopment initiative.
It's a case where two wrongs don't make a right, but one of those wrongs could have significant consequences for the village. Foster has apologized to his fellow trustees and the mayor for submitting the grant before the VB could review it. Mayor Richard Kavesh, citing the pending litigation, offered "no comment" on his role in stirring up a story which almost certainly was tied to his failed bid for re-election.
Sources:
Editor's note: Nyack Trustee Doug Foster is a co-founder of NyackNewsAndViews. He gave up all editorial control of this site in 2009 when he ran for public office in the Village of Nyack in 2009.
Kavesh, Foster and other Village Board members have published frequently on NyackNewsAndViews since 2010.  NyackNewsAndViews is a community news site that encourages residents, elected officials and newsmakers to share their views in their own voice without the filter and interpretation of the press. Since 2010, Mayor Richard Kavesh has authored 24 different stories; Trustees Doug Foster (18 articles), Jen White  (four posts) and Steve Knowlton (3) have also authored articles on this site.