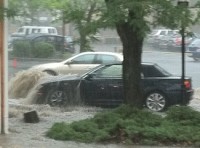 by Bob Dillion
Kevin T. Mulhearn, an attorney who has battled United Water in the Supreme Court of Rockland County for several years, will speak about Flooding Responsibility at the West Nyack Fire Department on November 17, 2011, at 7p.
Mr. Mulhearn will discuss various legal options for residents to seek a fair recovery for your flooding damages, as well as strategies to compel United Water to adopt more neighbor-friendly water release policies.
The West Nyack Fire Department is located at 42 Strawtown Road, West Nyack, New York.