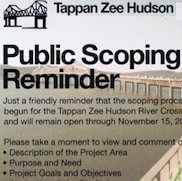 Today at 5p is your last chance to enter a comment regarding the new plans for a Tappan Zee Bridge.
Send a short and to-the-point note to Michael Anderson at tzbsite@dot.state.ny.us.
Say what you wish, but if it makes your life easier, here are some suggestions:
Last Train From Clarkstown: Someday I hope to be on that train. But first we need to build a new bridge with the commuter rail line to Grand Central that Rockland County was promised.
"Well, Bus My Bridges:" Thanks for the bridge, but you promised us that without mass transit we would suffer a whole world of hurtin' congestion. We need mass transit on a new Tappan Zee Bridge.
Stop talking, start building: As soon as you can find $5.2 billion in the seat cushions in Congress, please start construction on the bridge.

Congestion today, congestion tomorrow, congestion forever! We don't need no stinkin' bridge. Fewer lanes, fewer cars, fewer options the better.