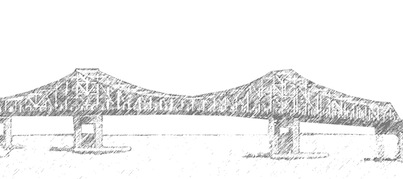 Nyack, Nov 27 — Virtually all of the Tappan Zee Bridge conversations from the public and the politicians have been centered around the theme of "Build Us A Bridge…but where's the mass transit that was promised?"
Here are two opinion pieces from today's news with distinctively contrarian views.
Damn The Issues, Full Speed Ahead: Assemblywoman Ellen Jaffee (Suffern – D) wrote a Journal News op-ed piece which officially pushes mass transit off the new bridge, effectively aligning her position with that of Governor Andrew Cuomo. Dozens of area politicians have endorsed the idea of building a new bridge but decried the lack of previously promised mass transit. Jaffee is the first elected official to say "what we need is a new bridge now," regardless of a widely held view by the public that mass transit needs to be part of the plan.
What's the opposite of "Build It And They Will Come?" Cap'n Transit, a blog which frequently offers outside-the-box solutions to regional transportation issues, projects a scenario where there IS no Tappan Zee bridge. Even if you disagree with his turn-back-the-clock-to-1955 vision, it's a well thought out analysis of a future that no politician or planner would ever endorse. Or anyone in the West and the Mid-West who had to suffer through commuting without the Oakland Bay Bridge (1989) in 1989 or the Mississippi River Bridge in Minneapolis (2007).
Sources: