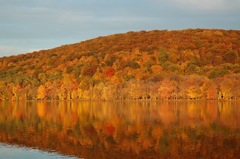 by Tina Traster
I have a picture I took 30 years ago of a white clapboard house partially obscured by brilliant, blazing leaves of autumn. The photo, which I framed and hung up in my Upper West Side apartment, represented something beatific, something out of reach. I could only imagine what it would be like to live in a house like that.
I became obsessed with leaf-peeping. Every fall, I'd trek from the city to the Hudson Valley or New England for several extended weekends to drench myself in nature's color spectacular. I'd snap a thousand pictures, crunch along leaf-strewn trails and hole up in quaint B&Bs.
Unknowingly, it wasn't leaf-peeping I was indulging in, as much as an exercise in life-peeping.
Who are the lucky souls who get to wake up in old houses lit by flaming maples and golden hickories? How great would it be to live in a place with a rocking-chair porch covered with large pumpkins and baskets of misshapen gourds, where sweet-scented smoke curls through a chimney and swirls of falling leaves eddy at the doorstep?
Every trip deepened my wonder and curiosity about what it would be like to own such a house.
'€œSlow down,'€ I'd yell urgently from the passenger seat while passing through a postcard-perfect New England town. '€œI want to have a closer look at that one.'€
As the car rolled away, I'd sigh, '€œIsn't it the most beautiful house you've ever seen?'€
Subconsciously, I was cataloging the accouterments of country life, like a hungry person scanning a patisserie window. I needed to know what the details were so I could slowly, methodically paint myself into the picture, the one that hung in the city apartment. It takes a while before a city girl can really imagine country life for more than a few days at a time.
The man I married in 2001 convinced me to leave Manhattan and move to the kind of house I once jumped out of a car to photograph. We live in an old farmhouse that satisfies my decades of yearning. Our house might not be as grand or handsome as some I saw on leaf-peeping excursions, but it's framed by tall trees and dense woodlands that turn stunning shades of sienna red, burnt orange and taxi-cab yellow.
Now that I'm living the dream, what I never, ever do is take meandering, leisurely, leaf-peeping drives to small towns.
I am too busy.
Autumn, to the unsuspecting leaf-peeper's eye, looks serene and peaceful and Norman Rockwell-orchestrated. The reality behind that tableau is hard work — a lot of hard work.
In late September, we are harvesting and drying out sunflower seeds, eating the last of our cucumbers and melons and planting winter vegetables like broccoli and cauliflower.
On Oct. 1 this year, I turned on the heat — just to test it. Of course, the basement furnace needed a $500 repair. While the leaves around us were just starting to pop with reds and yellows, we were planting 200 irises and 150 hyacinth bulbs.
By mid-month, I'm begging my husband to clear out the tangle of garden supplies from the shed to make room for my daughter's bicycle and scooter and for patio furniture I'm hosing down. A parade of potted impatiens is making its way inside. Empty pots with plants that didn't make it are stored in the basement. Dead vegetation needs cutting back.
Meanwhile, the newspaper's Friday weekend section taunts me with suggestions for fall leaf-peeping day trips.
Not gonna happen, I tell myself.
We've got to rake and chop wood and caulk and weather strip and call the chimney sweep and air out the winter bedding and plant the garlic bulbs and stock up on chicken feed and grit and buy gourds and a wreath and of course, the pumpkin. Ah yes, the pumpkin. Every year, amidst the frenzy of transitioning to winter, we invite friends to our annual pumpkin carve and harvest meal.
My daughter draws facial features on the pumpkin, and my husband expertly carves along the lines. We gather up the pumpkin guts and seeds and place a candle in the cavity. As the sun fades, we light the Jack-O-Lantern and ooh and ahh. Then, we feast on food we've grown.
And I remember why I wanted all this so badly.
Tina Traster writes the New York Post's '€œBurb Appeal" column and the '€œThe Great Divide'€ at HuffingtonPost.com. Read more about Tina Traster's move from the city to a rural suburb in '€œBurb Appeal: The Collection,'€ now available in print and as an eBook at Amazon.com.