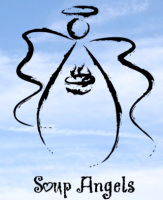 by Marie Lorenzini
Soup Angels is a not-for-profit, 501(c)3 consisting of group of Nyack folks who have been serving meals to the community every Wednesday evening for the last five years. This Thanksgiving will be our sixth Come to the Table Thanksgiving meal.
Our Soup Angels' soup kitchen needs your help. We have been serving many families in Nyack and other struggling people in Rockland County delicious turkey dinners with all the trimmings with the assistance of generous members of our community (as we do not receive any government assistance).
Last Thanksgiving we served 1200 people and this year our numbers will have increased. Your donation of any amount is welcome and fully tax deductible. Won't you help us make the holiday brighter for folks in this tough economy?
Please donate either via Paypal at www.SoupAngels.com or send us a check made out to "Soup Angels FRC" c/o P.O. Box 565, Nyack NY 10960.
Soup Angels continues to serve a meal to anyone who needs a meal, no questions asked, every Wednesday 5:30-6:30p in Nyack. For more information email soupangels@gmail.com