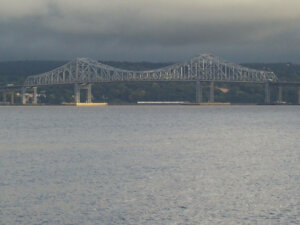 Streetblog says that New York can't afford to build a new Tappan Zee Bridge without mass transit. And they have the math to prove it.
"According to the State of New York, spending $5.2 billion on a new Tappan Zee Bridge is affordable, but spending another $1 billion for a 30-mile bus rapid transit corridor is a bridge too far," writes Noah Kazis in StreetsBlog.org. For a $1 Billion BRT investment:

54,000 additional commuters would ride transit per day.
During every morning rush, the transit line would save commuters 4,400 hours of travel time.
Every day, during just the four hours of the a.m. peak, BRT would reduce greenhouse gas emissions by 59 tons and carbon monoxide emissions by 2.3 tons.
The BRT system would conserve 22,325 gallons of fuel each morning.
Those numbers, from 2009, probably understate the value of transit. The projections assumed the ARC tunnel would be finished, which would have significantly increased transit capacity in Rockland County. With Tappan Zee transit but no ARC, some would-be ARC riders might find themselves riding across the Tappan Zee instead.
StreetsBlog notes that these are conservative estimates because they are based on 2009 calculations which assumed I-287 corridor road improvements would will no longer be included in the project.
How would BRT help the average NYC commuter's wallet? Assuming $4/gallon gas, Streetsblog says BRT  would save around $200,000 in gas costs every weekday. That doesn't include any possible CRT benefits from building a rail line from Suffren to Grand Central.
"Not even counting weekend travel, these savings add up to about $100 million over the course of a year," writes Kazis. "By building the Tappan Zee without transit, the Cuomo administration is forcing New Yorkers to absorb those costs," he says.
Source: New York Can't Afford to Build a Tappan Zee Bridge With No Transit, Streetsblog.org 11/1/2011