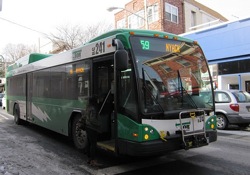 Here are the some of the schedule changes of which you should be aware if you plan to ride the Tappan Zee Express (TZx) or Transit of Rockland (TOR) buses from Wed-Fri of Thanksgiving week.
Extra TAPPAN ZEExpress (TZx) buses will operate from Tarrytown Rail Station according to normal afternoon schedules in anticipation of early rush hour passengers on Wednesday, November 23. Also, Metro-North trains will operate some early getaway trains and has posted a Special Thanksgiving Weekend schedule at www.mta.info. The TZx won't operate on T-Day Nov 24.
TOR riders on Thursday will operate Sunday schedules, with no service on TOR routes #94, #95 and #97 and no TOR #91 service to New City, Yeager Health Center or Helen Hayes Hospital.
On Friday, TOR, Clarkstown Mini-Trans and Spring Valley Jitney buses will operate normal weekday schedules. TAPPAN ZEExpress buses will operate a weekday schedule, adjusting departure times from Tarrytown Rail Station to coordinate with Metro-North trains operating a modified schedule.