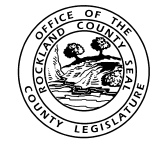 by Cliff Weathers
The collective frustration of residents reached a boiling point at the Rockland County Legislature budget hearing on Tuesday night. Dozens picketed outside and another 400 spilled into the halls of the Allison-Parris County Office Building's auditorium.
Scores of people stepped up to the podium and lashed out at County Executive C. Scott Vanderhoef's proposed 2012 austerity budget. Some were worried about their jobs, others were upset by the possible loss of necessary services, and yet others vented that a large, one-time surcharge on property owners would be unfair to seniors and others on fixed incomes.
Vanderhoef's $701.8 million budget proposal attempts to address a $52 million deficit that is expected to grow beyond $80 million by the end of the year. It includes layoffs for 544 county workers, the defunding of the Summit Park nursing home by summer, and gutting services for military veterans. Other cuts include shuttering Rockland County's Adult Home, putting the sheriff's prisoner transport unit on blocks, and tossing aside funding for nearly every local nonprofit organization.
Even with these cuts, some residents will face a startling increase in taxes. Vanderhoef proposes a surcharge of $160 to be imposed on Rockland County property owners in addition to their existing tax bill. Such a surcharge would not be equitable and would penalize lower-income property owners. Topping this off, Vanderhoef proposes that taxes increase by 2 percent and  a new cellphone tax, the latter being a scheme that proved very unpopular with residents several years back.
The near unanimous consensus of those in the auditorium was that Vanderhoef was to blame for mismanaging the County and some remain upset that he lobbied to get himself a 12.5 percent raise nearly two years ago, as County finances languished.
"People were very impassioned and articlate," said County Legislator Connie Coker. "They were inspiring and talking about the value of mental helath and Summit Park. They are the face of what is happening. We need to find a way to keep these services, we cannot cut 500 employees."
Residents of Summit Park–some in wheelchairs–were among the attendees and speakers.
Numerous people in attendance questioned whether Vanderhoef should be impeached or resign. The New York State Constitution provides no guidance for recall elections.
Vanderhoef was a conspicuous no-show at the hearing. None of Vanderhoef's deputies participated either.
Coker said that the legislature is growing increasingly frustrated with Vanderhoef and his administration. She added that she believes most of the legislature would vote against the one-time surcharge.
"We feel that we've been lied to," she said. "It's becoming clear to us that they've been hiding the numbers from us."
There will two public hearing before the County Legislature on December 6. One focus of the hearings will be the discussion of the proposed surcharge. It is not known whether Vanderhoef will show up for these hearings or remain an aloof absentee.