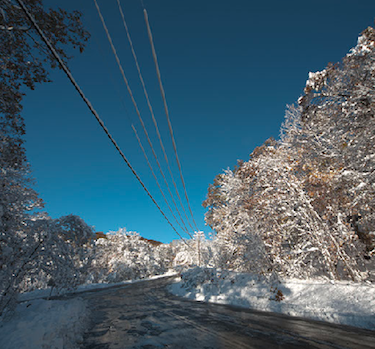 Rockland County, Nov 3 — The people who make the power are hearing it from the people in power on behalf of the thousands still without power.
'€œThe fact that several days — Saturday, Sunday, Monday, Tuesday — passed without a significant  presence of repair crews is simply not acceptable,'€ said Town of Clarkstown Supervisor Alex Gromack. About 19,000 Rockland residents were still offline as of Wednesday afternoon.
Gromack says hundreds of residents have called to complain that they can't contact Orange & Rockland or did not receive useful information when they did. '€œO&R displayed its utter ineffectiveness in response to Hurricane Irene, and their incompetence is only further highlighted by their response to this recent storm,'€ said Gromack. '€œUnfortunately, not only have their procedures not improved, but the lack of response to this recent storm is nothing short of outrageous. Clearly, an investigation by the New York State Public Service Commission is required.'€
O&R had promised that 90 percent of homes without power would be restored by Wednesday.  Protestors staged an "Occupy O&R" rally in front of Spring Valley High School late Wednesday afternoon to express their outrage at the continued outages.
"Nyack has some pockets of really struggling residents, small areas that are down because of neighborhood wire issues," said Deputy Mayor Jen White. "They are, unfortunately, not going to have power until Friday because the areas with the smallest number of residents without power are being triaged behind those neighborhoods where one fix can restore 100 or more homes."
O&R told village officials that residents on Sickles Ave, Catherine Street, High Street and Charles Street would have their power restored by Thursday. Homes on Central and Piermont Avenues would be in the dark until Friday — almost seven days after the initial blackout.
According to White, as late as Wednesday there were still a live exposed wire in a residential neighborhood. However, persistence — and pressure — got the attention of O&R. Eventually. "This was a vicious storm, an early storm and one that did far more damage than Hurricane Irene," said White. "Orange and Rockland has been responsive to our concerns and questions and our immediate emergencies."
In the wake of the damage done by Hurricane Irene, Nyack began discussions about creating a 20 year plan to put the village's electrical wiring underground. "I don't think it's a want. It's a need," said White. "Although O & R thought it would be cost prohibitive, it's also cost prohibitive when you consider the long hours of hard working people on overtime trying to get people some power for their homes." White says both Orange and Rockland and the village need to work together on a long term solution. "Fix our grids and bury our wires.  It's the only thing we can do," she said.
Photo: Oct 29, 2011 Snow Storm in Stony Point, NY. Credit: George Potanovic, Jr. via Potanovic.com