NyackNewsAndViews offered more than twenty candidates on the ballot in Nyack the opportunity to submit a "closing statement" for voters before the Tuesday Nov 8 General Election.
Here are statements from the candidates for Town Council in Orangetown.  Candidates are listed in random order.
Orangetown: Paul Valentine (R), Robert Dell (D), Elijah Reichlin-Melnick (D), and Thomas Morr (R).

Paul Valentine: During my campaign for Town Council, I have made a three-point pledge to the residents of Orangetown:
Stabilize taxes: As a business owner, I know how to work with a budget. As a family man, I understand how expensive it is to live here. We must control taxes or families will move away and young people will be unable to afford to buy a home here.
Ensure smart growth: We must study all of the options for the Rockland Psychiatric Center and develop a plan that will return the property to the tax rolls while protecting the surrounding neighborhoods. I oppose any type of high-density
or workforce housing on this property.
Be an independent voice: I will be an independent voice for the residents of Orangetown with no hidden agendas and no allegiances to special-interest groups.
Please vote for me on November 8 for Orangetown Town Council.
Robert Dell: My name is Robert Dell and I am a Democratic candidate for the Orangetown Town Council with 30 plus years of pro community and planning experience. My wife, Siena Porta, and I are homeowners in Tappan for the last 25 years and have three sons, Malcolm, Terrence and Robert. We share your frustration with an Orangetown government that places tax burdens on us, our senior residents, and others on fixed incomes that are pricing voters out of our homes and communities.
The Orangetown Town Council should protect our neighborhoods and communities. Your tax burden is now decided without the direct participation or the even the formal representation of your elected village officials..With the election of our Democratic team, my ongoing initiatives to establish official Liaisons on the Town Council will become a reality.
Taxation without adequate representation is not acceptable.
As a research laboratory director and a professor in green engineering research at the Cooper Union in NYC, and also a member and former Chairman of the Orangetown Planning Board in Orangetown for many years, I understand the complexities of your environmental concerns, planning issues, and our sewer and water systems and I will work with you to resolve them.
You need an experienced and caring pro community advocate a strong commitment to a sustainable future while preserving and nurturing the rich cultural fabric of our community.
Those who have seen me at public meetings know that I am a strong voice for fairness and protecting our neighborhoods.
All of your mayors have endorsed my candidacy and they are joined by Jen White,  Our Town, The Rockland County Times, The Rockland County Central Labor Council, The Rockland County Building & Construction Trades Council and IBEW 363
Democratic team needs your support, but most of all, we need your vote. Please vote row A.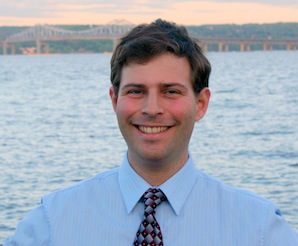 Elijah Reichlin-Melnick: Residents of the river villages need a voice in Orangetown Government. As a lifelong Nyack resident, I am running for Town Council to provide that voice. I am a graduate of Nyack High School and Cornell University, and am the only Town Council candidate from this side of town. I formerly taught elementary school in an inner city school in New Haven, Connecticut and now work as a caseworker in Congressman Eliot Engel's West Nyack office, cutting through bureaucratic red tape at government agencies to help solve problems for thousands of Rockland residents.
We deserve a town government that is open and transparent and that spends our money responsibly. That's why I will hold regular community forums in the river villages and in other areas of Orangetown so that people can share their concerns directly with their elected officials. I will also urge the Town to send you a taxpayer's receipt, so you know exactly what your money is spent on. My other priorities include controlling development responsibly in order to protect open space and preserve our high quality of life, and working to ensure that the Town is doing everything possible to create the conditions for local businesses to succeed and grow.
Too many people in politics talk to voters but don't really listen to their concerns. I won't be one of them. We need more elected officials who are accessible to the voters they serve and who come to work every day ready to help solve problems and make life better for residents. I'd love to hear from you directly about your vision for our town. Please feel free to call me at 845-729-1288 or e-mail me at Elijah.ReichlinMelnick@gmail.com. My website is www.ElijahReichlinMelnick.com.
I hope I can earn your support on November 8th!