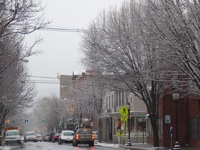 Nyack, NY Oct 29 8a (updated) — You can't make this stuff up: Weather forecasters are predicting 8-12 inches of snow for the weekend before Halloween.
The National Weather Service has issued a Winter Storm Warning for Rockland and Northern Westchester. Heavy wet snow is possible from Sat morning until 6a on Sun 10/30.
"Our ever-prepared DPW is planning on having two of our seven trucks in action, more if needed," says Nyack Mayor Richard Kavesh.
If you lose power during the storm, visit the Orange & Rockland Power Outage Maps from your smartphone or call 877-434-4100 to report your situation.
Here's the latest forecast as of 7a Sat morning straight from the NWS:

Urgent – winter weather message updated National weather service new york ny 709 am edt sat oct 29 2011

A historic early season snowstorm for interior sections of the Lower Hudson Valley, Southern Connecticut and Northeast New Jersey

Winter storm warning remains in effect until 6 am EDT sunday

Locations: Lower Hudson Valley; interior portions of NE New Jersey;  Southwest Connecticut mainly along  and north of interstate 287 and the Merritt Parkway.
Hazard types heavy wet snow and strong winds.
Accumulations: 8 to 12 inches of snow.
Winds north 10 to 20 mph with gusts up to 45 mph.
Temperatures in the mid 30s.
Visibilities one quarter mile or less at times.
Timing: In the higher elevations precipitation should be  nearly all snow possibly beginning as or mixing with rain at  the start. Elsewhere a mix of rain and snow today should  change to all snow from west to east from mid afternoon into  early evening and the snow could be heavy at times. Snow  should gradually taper off in intensity late tonight.
Impacts: Widespread hazardous travel conditions due to snow  covered roads and reduced visibilities. Strong winds and heavy  wet snow will result in downed trees tree limbs and power  lines. The damage could be quite extensive with the potential  for an area of widespread power outages.

A Winter Storm Warning for heavy snow means severe winter weather conditions are expected or occurring. Significant amounts of snow are forecast that will make travel dangerous. Only travel in an emergency. If you must travel… keep an extra flashlight…food…and water in your vehicle in case of an emergency.