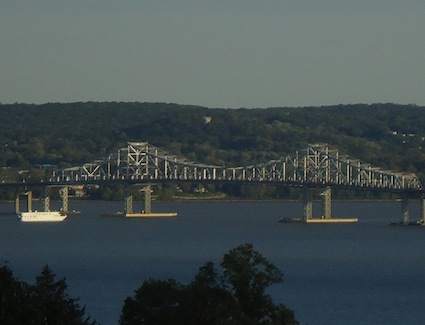 by Dave Zornow
Nyack, Oct 30 — State, town, village and and union officials — and several hundred Rockland County residents — came to the Adler Room of the Palisades Mall last Thursday to hear the revised plan for a replacement Tappan Zee Bridge. With few exceptions, most of the speakers expressed support for the project but disappointment in the lack of the previously promised mass transit components. River Village residents also learned that in addition to no mass transit, they won't be seeing any improvements to the Exit 10 Interchange in South Nyack, either.
Officials say construction on a new bridge can get started as soon as Fall 2012. The new structure will consist of two spans each with four lanes in each direction plus shoulders and a separate lane for emergency vehicles. The current bridge, completed in December 1955, has seven lanes, no shoulder and a movable barrier to adjust to AM / PM traffic capacity. The 96 foot wide Northern span, which includes a pedestrian bike lane, will be constructed first. When that work is complete, current traffic will be shifted to the new span allowing the current bridge to be torn down to make way for the 82 feet Southern span.
A previous plan, created over nine years with over 200 meetings with the public and elected officials, envisaged a 30 mile transit corridor between Suffern and Port Chester with a new commuter train from Rockland to Grand Central and a Bus Rapid Transit route along the I-287 corridor. The revised plan announced by transportation officials will just replace the current bridge.
"I feel strongly that there is a real and urgent need to include and fund bus mass transit in the TZB project," said Drew Fixell, Mayor of Tarrytown. "I do not believe that the new structure will make things worse — I would think that since it will provide for breakdown lanes, wider travel lanes and probably a better overall design, it will actually improve traffic conditions marginally.  At the same time, however, it is not likely to have a significant positive impact on traffic congestion or pollution and is therefore inadequate and a disappointment."
When the George Washington Bridge was completed in 1931, planners expected to add trains at a future date. Fixell echoed the views of many that history will repeat itself a few miles North on the Hudson. "My greatest concern is that if the project were to be approved without a hard commitment to mass transit, the opportunity is likely to be lost for many, many years."
"There's a difference between not precluding versus actively making provisions," said Rockland County Legislature Chairwoman. Harriet Cornell. "Let's work together to change the scoping language from '€œnot preclude'€ to '€œdefinitely include,'€ added Nyack Deputy Mayor Jen White.
Nyack residents learned that in addition to not getting mass transit, they won't be getting a new Interchange 10, either. The previous plan had promised road improvements including eliminating the current 360 degree ramp in South Nyack. The new plan eliminates that planned improvement — as well as the the South Broadway bridge connecting South Nyack with 9W. TZB II construction will require demolishing the current bridge over the Thruway. It will be rebuilt and replaced after the new spans are built.
Still, the biggest issue on everyone's mind was mass transit. "Ever since TZ2 was first announced by Governor Pataki in September, 1998 I've said that if they're going to build a new Tappan Zee Bridge, it has to be built with mass transit," said Nyack Mayor Richard Kavesh. "The Thruway Authority itself has said repeatedly that we can't 'build our way out of congestion.' A new bridge without mass transit would be at full capacity from day one, and the resulting pollution, congestion, and damage to our community and our environment would only get worse from there."
NYS Senator David Carlucci (D-Rockland/Orange) recently met with the Federal Highway Administration and says he's excited about the possibility of replacing the bridge sooner than later.  "However, we must ensure that any final plans take into consideration the long term transportation needs of Rockland County," said Carlucci. "It's difficult to see how those needs are met without a public transportation component."
Nyack Trustee Doug Foster, who brings an urban planning background to his work as a village board member, was more direct. "This is one of the most prominent transportation corridors in our country.  Of course we can afford to build mass transit. Mass Transit is REQUIRED, NOT OPTIONAL in major urbanized areas."
Where most of the Rockland elected leaders were unanimous in speaking out for mass transit, NYS Assemblywoman Ellen Jaffee and South Nyack Rockland County Legislator Connie Coker were the lone voices who spoke out against building a commuter train, a cost saving measure similar to the position advocated by Westchester County Executive Rob Astorino. "It is a myth that there are a lot of people traveling East across the Tappan Zee Bridge," said Jaffee. "The BRT (bus rapid transit) is a much better option than the CRT. It will serve the public better and the environment better and it's much less expensive than the CRT (Commuter Rail Transit)."
"I do not believe the ridership numbers and adverse community impacts support rail on the bridge," said Coker. "We must include bus rapid transit and HOV lanes in a new bridge. The design must look to the future and provide options that help us get out of our cars."
The now scrapped plans for a commuter train called for a "one seat ride" to Grand Central with a train station at the Palisades Mall. The BRT line, which would have included a station near the Old World Market, would have connected Nyack residents with Suffern and Port Chester with stops along the way.
Project Director Michael Anderson announced an aggressive schedule to break ground by next Fall. The draft Enviornmental Impact Statement will be issued in January 2012 with public meetings scheduled for February. The final EIS will be delivered in June with a "record of decision" on the final project plans announced in August just before Fall construction begins.
See also: