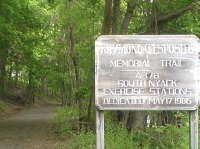 It's invasive and it's insidious. And it's choking the life out of the the rail trail that runs between South Nyack and Grandview. But you can do something about it.
Volunteer to help remove Kudzu vines from rail trail in South Nyack on Sat & Sun  Oct 22-23. Meet at the rail trail gate where South Broadway meets Route 9W in South Nyack at 9a.
If you can't make it at 9a just head south on the trail to catch up with the other volunteers. For more information, contact Michele Hamilton at mizzhamm@gmail.com or (845) 623-1534.
The Raymond G. Esposito Memorial Trail, named for a late mayor of South Nyack, is a 1-mile-long, gravel trail through several neighborhoods on the Hudson River. The trail head is located just behind the South Nyack Village Hall on South Broadway.
See also:
Photo Credit: Source:  Biking: Raymond Esposito Rail Trail, allau.wordpress.com