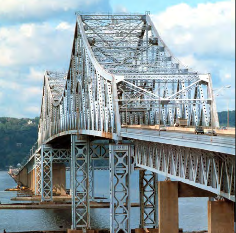 By Richard Kavesh
A standing room only crowd of more than 1,000 people packed Tarrytown's Doubletree Inn on Tuesday as details of the $5.2 billion replacement Tappan Zee Bridge were presented to the public for the first time.
An earlier version of the project — estimated to cost between $16 and $20 billion dollars — included road improvements and mass transit. The new version focuses on the Hudson River crossing, with two new spans containing four lanes, shoulders and an emergency lane. The northern span would also include a bicycle/walking path.
While Project Director Michael Anderson said that the alternatives under consideration '€œdo not preclude mass transit,'€ they don't include mass transit at the outset, either. That's what upset virtually all of the 30 public officials and citizens who were given two minutes each to speak. Westchester County Executive Rob Astorino said that he was '€œtroubled by the lack of a mass transit component to alleviate congestion.'€
Astorino called on federal and state officials to include bus rapid transit from the beginning of the project. '€œI strongly warn against building a bridge that is penny-wise and pound-foolish,'€ Astorino said. '€œThe reality is, a new bridge'€"without a mass transit component'€"would already be at capacity on the day of its opening.'€
Regional officials, having invested almost ten years in meeting with TZB planners, are frustrated by the new approach that removed the train and bus alternatives in the original plan without ever having explaining why. '€œ[It's] ten years of study and consensus erased by three sentences," said Kate Slevin, executive director of the Tri-State Transportation Campaign. On Monday, StreetsBlog's Noah Kazis wrote about the new plan's lack of transparency in an article called Who Killed Transit on the New Tappan Zee? Feds and State DOT Won't Say.
One resident at the Westchester session said that a new Tappan Zee Bridge without mass transit would be '€œan abomination.'€ Another local official suggested rehabilitating the current bridge, building only one new span, and using the savings for bus rapid transit.
When the federal government says it's fast-tracking something, it isn't kidding around. The previous $16 billion '€œTappan Zee Bridge/287 Corridor Project'€ included 10 years of study and hundreds of public meeting without reaching closure. On Wednesday, officials said the revised and downsized '€œHudson River Crossing'€ would have a draft Environmental Impact Statement completed in January, the final EIS finished in June, and a record of decision made by August. The two alternatives to be studied are the '€œno build'€ option and bridge replacement without mass transit.
Local officials from the Nyacks will travel to Washington, D.C. later this year to urge members of Congress to include mass transit from the start of the project. Transportation consultants say the bus rapid transit component — which would provide regular bus services between Suffern and Port Chester — would add about $3 '€" 4 billion to the cost. Although that sounds like a lot of money, it comes to less than .5% of the cost of the war in Iraq.
Officials estimate that construction would take 5 '€" 6 years. South Nyack's South Broadway Bridge would have to be replaced and Exit 10 would remain.
Rockland residents will be able to see the plans and voice their concerns at Thursday's meeting, which runs from 4p – 9p at the Palisades Mall. The 50 page revised Tappan Zee Hudson River Crossing Scoping Document is available online at tzbSite.org.