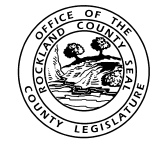 by Dave Zornow
The Rockland County Legislature says the county's finance commissioner  violated New York State law and is asking the state comptroller to reverse a $11.4 million funds transfer the executive branch made for compensated absences of vacation and holiday pay. Rockland County Legislature Chairwoman Harriet Cornell and Legislator Ilan Schoenberger, chairman of the legislature's Budget and Finance Committee, wrote to NYS Comptroller Thomas DiNapoli to request state assistance in restoring these funds to the county budget.
'€œThis is another indication of actions taken without the knowledge or authorization of the legislature," said Cornell. She expressed frustration with the executive branch's action as her office has been working with the comptroller to impose multi-year financial planning on the County Executive. "Now I have to ask [Comptroller Thomas DiNapoli] to intervene on this,'€ she said.
An audit of the 2010 county budget last month showed monies for last year's compensated absences had been moved into the general fund and were being used for the day-to-day operating expenses. Cornell and Schoenberger say that only the County Legislature has the authority to modify an adopted budget and to transfer funds from one department or unit of government to another.
A statement issued by County Executive Scott Vanderhoef's office says they plan to conduct a full investigation of the issues raised by the legislature. "However, it is the considered determination of our financial team that the matter presented by the legislators was, in fact, an accounting reclassification in the county's financial statements." The executive branch says Rockland received a clean, unqualified financial opinion from the county's auditors.
Schoenberger says the $11.4 million unauthorized transfer is equivalent to a 17% increase in property tax. '€œI am extremely concerned that a department head can transfer $11.4 million from one account to another and spend that sum of money without the knowledge or authority of the legislature."
See also: