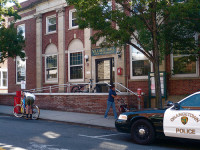 by Dave Zornow
Nyack, Sept 30 — The Nyack Village Board and the Orangetown Police Department have reached an agreement which will continue daytime coverage in the village, give the OPD more staffing flexibility and add new officers to evening foot patrols.
Residents and business owners raised concerns after Neil O'Donnell, a 29 year police veteran with roots going back to Nyack's now-disbanded police department, was removed from daytime duty in the village. Nyack businesses, lead by Reality Bites Cafe owner Patti Aagaard, collected several hundred signatures to "Keep Officer Neil O'Donnell in Downtown Nyack."
"It's a staffing and budget issue," says Trustee Jen White, Nyack's liaison to the Orangetown Police Department.  She says the OPD has worked hard to accommodate the village and is committed to community policing and providing Nyack with any special attention it requires. According to the Journal News, Orangetown has spent $155,000 through August for five officers to provide coverage for Thursday-Saturday night patrols in downtown Nyack.
White says the OPD has revised its schedules to let O'Donnell continue to cover the village during some days while adding new evening shifts to his schedule, too. Two new officers will share the Nyack coverage with O'Donnell.  A new 'Park, Walk and Talk' initiative  by the OPD will ask officers to walk the village for the first and last 90 minutes of their shift to maintain high visibility in Nyack's downtown.
"Our minimum staffing in the Village of Nyack has not changed," says Orangetown Police Chief Kevin Nulty. '€œPark, Walk and Talk is a recognized criminal justice strategy that helps police to better connect with residents and business owners by having officers get out of  patrol cars to make contact with people in the areas they serve," says Nulty. "We want the business communities in Nyack and Pearl River to know we're out there for them."
Nyack's business district will be covered by three police officers, working rotating 8a-4p and 4p-12m shifts.  Each day, one officer will work days, the second will work nights and the third will have the day off. Neil O'Donnell will be one of the three officers assigned to the village.
"I do think we will still see a lot of Neil," says White. "He's been an officer with the OPD for many years and although he had a chance to take a post closer to his home, he chose to stay in Nyack because he's dedicated to our community."
White says that its unfortunate that Nyack will be losing O'Donnell as a steady daytime presence, but the new schedule is also an opportunity to use his experience at night when the bar scene gets going. "We have often thought that it would be great to find an evening officer who polices the way Officer O'Donnell has during the daytime, with complete familiarity with our community, our residents and merchants and our issues. Ironically, out of these budget cuts, that opportunity is arising…and the officer, at least some of the time will actually BE Officer O'Donnell," she says.
"What began as a petition to keep one officer walking the beat, has resulted in a bigger 'win' for Nyack," says Reality Bites' Patti Aagaard.  "There is no better deterrent to crime than a cop on the beat. With this new incentive, Chief Nulty has given the neighborhood a tremendous boost in confidence, making crime prevention a neighborhood responsibility," she says.