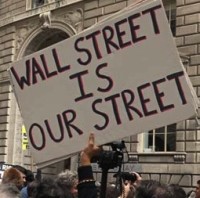 The generation that burned draft cards to protest the Vietnam War and bras to bring attention to the Woman's Lib movement is mixed on the meaning of the Occupy Wall Street protestors who are camped out in lower Manhattan. It's true that some of today's haves can't quite remember what it was like to be a 20-something have-not. But they are also confounded by the lack of a clear message and a coherent call-to-action from the protestors, too.
"We can no longer afford to let corporate greed and corrupt politics set the policies of our nation," says Steven White of Spring Valley in a post at MeetUp.com. "We must band together as the families impacted by foreclosures, under and unemployment, unfairly imposed lifelong debt, tuition hikes, inequality and general disrespect for humanity  and hold Wall St. accountable for their crimes," he says.
Clearly, Mr. White is "as mad as hell and not going to take it anymore." But what exactly do the protesters want Wall Street to do? Shut down? Distribute money to the less privileged? Support Obama's job bill? Reduce the deficit?
On Sun night Oct 9,  Nyack may get to find out, as protesters sympathetic to the Occupy Wall Street rally will be at Veterans Park next to Riverspace in downtown Nyack at 7p.
Commentators Larry Elkin and Cliff Weathers offer their own interpretation of Occupy Wall Street — and where this all might end up.
Life Lessons On Occupied Wall Street
by Larry M. Elkin, President, Palisades Hudson Financial Group LLC
The young people who started the Occupy Wall Street protest a few weeks ago are about to learn some important lessons about life in the grown-up world.
Lesson One: If you don't have an objective, someone else will be glad to give you one. In this case the '€œsomeone else'€ means both labor unions, which have been fighting a losing battle to mobilize popular support, and the Democratic Party, which is searching for ways to feed public antagonism toward the financial industry without reducing the value of anybody's 401(k).
Lesson Two: Protesting against something is useful if you want to prevent change. If you don't want Wal-Mart coming to your town, you protest against Wal-Mart. But if you actually want change, you have to be for something. Until the union activists moved in, Occupy Wall Street was not for any particular thing that I could determine. It was just against Wall Street, whatever that means. Read more…
The next #OccupyWallStreet May Not Be Tweeted
by Cliff Weathers, LeftHudson.com
If you've been listening to the newscasters and pundits, they're working that false meme of #OccupyWallStreet lacking focus and clear goals. You may be incredibly frustrated by this, and that's probably what inspired you to read this post and many other contributions about #OccupyWallStreet by bloggers and citizen journalists. Read More…
See also:
Photo Credit: CriticalLegalThinking.com