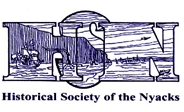 by Gini Stolldorf
The Nyack Historical Society, temporarily "damp but not out," is back in business with its Fall 2011 newsletter.
A summer flood on June 26 chased the group from their new headquarters at Depew Avenue. Fortunately, there was little damage.
When Nyack resident Julian O. Davidson died at age 40, the art world lost one of its preeminent marine artists. Although he passed 117 years ago, his mastery of painting waves lives on.
Rowing on the River ain't nothing new in Nyack. Today's River Rowing Association pays homage to the sport's long Hudson history in Nyack.
Once upon a time, Nyack was the car shopping capital of Rockland County. The buildings live on although the car dealers have moved on.
Read the Historical Society of The Nyacks Fall 2011 newsletter online at nyackhistory.org.