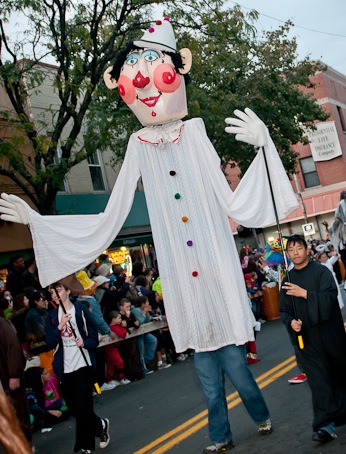 For information about the 2012 Nyack Halloween parade on Oct 27 2012, read I Love A Parade: Nyack's Halloween Fest Turns 25.
by Nancy Phillips
The 2011 Halloween in Nyack will be more than just Trick and Treat. There will be roller derby, 15 foot puppets and great marching bands on Sat afternoon Oct 22 for the village's 24th annual Halloween Parade beginning at 5:30p.
Nyack's annual Halloween Parade is the largest event of its kind outside of New York City. Building on a history of record-breaking crowds, over 20,000 spectators are expected to line the streets of Main and Broadway in Nyack.Parade-goers will see a reprise of Therese Shorn's '€œFestival of Ghouls'€ '€" 15-foot tall puppets worked by Nyack's own Amazing Grace Circus. Other features include five of Rockland County's award-winning high school marching bands, Suburbia Roller Derby of Westchester, the H.O.G.S., Hudson Vagabond Puppets, Hook and Ladder Companies from around Rockland, and unicyclists and stilt walkers from Amazing Grace Circus.
Best in Parade" prizes for

FLOAT – $1,000 (sponsored by Casa del Sol)
ADULT COSTUME- $100 (sponsored by ACADA)
ADULT COUPLE – $100 (sponsored by Provident Bank)
CHILDREN'S – $50 Gift Certificate to Amazing Grace Circus School/After School

2ND PLACE – $50
3rd PLACE – $25 – Gift Certificate to Amazing Grace Circus School/After School

GROUP(school, non-profit, resident, business) – $100 (sponsored by Koblin's Pharmacy
GHOULS/GHOSTS – $50 (2 awarded) – (sponsored by Palisades Federal Credit Union)
WITCH COSTUME – $50 – (sponsored by Shop Nyack)
BABY COSTUME – $20 – (sponsored by Rivertown magazine)
MONSTER COSTUME – $20 – (sponsored by Rockland World Radio)

JUDGE'S CHOICE – $100 – (sponsored by Village of Nyack)
To register your float or join as a marcher visit Halloween Float/Marcher Registration
The Halloween In Nyack festivities start at 3p in the Riverspace municipal parking lot at Main and Artopee with live music sponsored by Nyack's Anjel Blue Music Studios and a Dog Costume Contest sponsored by My-Buddy-N-Me of Nyack.
Main Street in Nyack will be closed from 4-8p for the parade activities. An awards ceremony will immediately follow the parade. Live music and dancing will continue in the parking lot after the awards.
Marchers and floats will assemble at 4p in Memorial Park at the corner of Depew and Piermont Streets in downtown Nyack. All are welcome to march and to register for the costume contests and the Best Group and Best Float prizes. The winner of this year's Best Float competition, sponsored once again by Casa del Sol proprietors Gina and Jorge Cambre, will take home a $1,000 prize.
Returning this year to lead the parade will be Rockland County Legislature Chairwoman Harriet Cornell as Parade Grand Marshall, along with Nyack's Mayor Kavesh, Village Trustees, and other local officials and celebrities. The trustees, along with a special guest celebrity judge, will preside over the costume and float contests.
The Nyack Halloween Parade is sponsored by Chamber of Commerce of the Nyacks, Oak Beverages/Guinness, Casa del Sol restaurant, Anjel Blue music studios, Provident Bank, Palisades Federal Credit Union, ACADA,  Koblins Pharmacy, Shop Nyack, Amazing Grace Circus!, Cablevision,  Rivertown magazine, Channel 12, 100.7/WHUD, LoHud.com, 107.1/The Peak, Rockland World Radio, the Village of Nyack and the Town of Orangetown.
To learn more about marching in the parade, registering a float or sponsoring this event, visit NyackChamber.org or call at 845-353-2221.
Photo: Therese Shorn's '€œFestival of Ghouls'€ 
Copyright © 2009 Deborah Grosmark All Rights Reserved