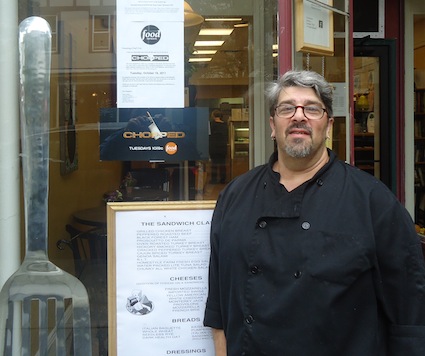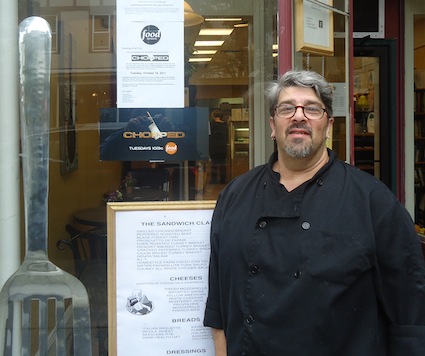 by Dave Zornow
On Tues night at 10p, Nyack Gourmet owner Cris Spezial gets his 15 minutes of fame. Actually, it's closer to 60 minutes as Spezial and other chefs compete in a special Halloween edition of Food Network's Chopped.
"The show was everything I hoped it would be," says Spezial. "Challenging from the perspective of a chef, fun from the perspective of a workaholic and gratifying to know that I can compete in such harsh conditions." Although a little bit anxious about how the show might get edited, Spezial says it was a great experience and he would do it again if he gets another opportunity.
Each week on Chopped, four chefs test their skill, speed and ingenuity before a panel of three expert judges taking everyday items and turning them into an extraordinary three-course meal. The contestants have seconds to plan and 30 minutes to cook a course from a basket of mystery ingredients.
Tuesday's episode, broadcast at 10p on Cablevision Channel 29 (766 HD) and FiOS Channel 164 (664 HD), is called '€œTrick or Treat Chicken Feet.'€ The TV recipe calls for candy and…chicken feet.  "It quickly turns into a nail-biter at the Chopping Block when the judges discover claws in their appetizers," says Whitney Bell at the Food Network. "More sweets and uncommon meats in the entrée round keep the competitors cooking creatively. In the last round, the chefs must adjust their plans when their dreams of perfect desserts threaten to turn into Halloween nightmares."
Spezial, a CIA trained chef who has owned Nyack Gourmet since 2001, has worked in the food preparation and catering business for 30 years. He's an active member of the Nyack community serving as vice president of DramaWorks, an organization that supports the performing arts in Nyack public schools.
On Tuesday at 9p, the Nyack Center is inviting the community to watch Cris on the big screen with donations benefiting the 44 children who attend the Nyack Center's Breakfast Club every weekday morning. "Glad to be able to use the exposure to also help out a local group like the Nyack Center and the Breakfast Club," says Spezial. "It's a perfect match."
See also: Fifteen Minutes of Foodie Fame, 7/24/2010