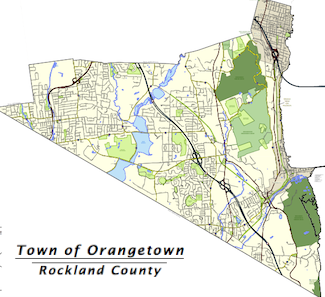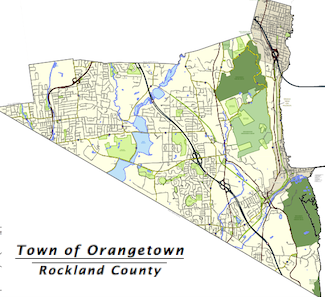 by Cliff Weathers
Today I spent five minutes trying to convince a South Nyack resident that she was not eligible to vote in the general election between Nyack Mayoral candidates Richard Kavesh and Jen Laird-White. She's lived here for 16 years, yet she doesn't know she lives in a different village with its own mayor and board.
"I'm going to vote anyway," she said, and then explained to me that she missed the primary election because she didn't know her polling place had changed to Christ Church. "I voted at the police station on South Broadway before," she said.
Realizing that debating this was fruitless, I asked who she was going to vote for in the Orangetown election. I explained to her the big differences between the candidates in the race, and that some had  the interests of the river villages in mind. Others, however, are peachy with the status quo, where relatively few services are provided to the villages and tax dollars subsidize state-of-the art golf courses and athletic fields primarily benefiting South Orangetown residents. I told her the makeup of the town board would have more impact over how her property taxes are spent than any village mayoral election.
"But I don't live in Orangetown," she argued. "I can't vote in that election."
This person is not so unique. I'm shocked to find that many river village residents don't grasp the concept of their residence being nested, part of both a village and a town simultaneously. In the end, this hurts the river villages. I'm not dismissing the noted difference in the short-term goals between Kavesh and White in Nyack by saying this, but the two mayoral candidates are like choosing between eggshell- and cream-colored paint relative to the wide gap between the Orangetown Board and Supervisor candidates.
I believe the reason that so many residents of the river villages don't understand that they also live in Orangetown is that they get relatively few services for their tax dollars. How can they be aware of a government that is basically invisible to them? The handful of Nyack residents that live in Clarkstown surely know it, at least because of the wonderful municipal pool that their town provides.
Nyack gets police protection and sewer service from Orangetown, but nothing else to speak of. And we all know how that sewer situation has been working out. South Nyack relies on the town for its sewers, but in the past it has had to take maintenance and repair matters into its own hands and had to sue the town for compensation. So, if you believe your Nyack is becoming more a Pottersville than a Bedford Falls, you should be taking a cold, hard look at town government as well as village.
It would be easy for me to point the blame at one political party, but that would be disingenuous and self-serving (full disclosure: I am a Rockland County Democratic Committee member). The truth is that some Democratic elected officials in Orangetown–both past and present–are as guilty of neglecting the river villages as the Republicans have been. And it's not just Democrats in Nyack and South Nyack that suffer; all residents get a dismally poor return on their town-tax investment.
Until Nancy Low-Hogan was elected four years ago, it had been several decades since a Nyack or South Nyack resident even served on the Orangetown Town Board. And while Low-Hogan had our interests in mind, she was mostly a lonely vote out of five on the board.
I am not going to use this space to shill for any candidates. If you want to know who I support, you can see how my lawn is adorned. But this I will say: There are two candidates from the river villages that are running for Orangetown offices, and yet another whose campaign makes note of how the villages have been mistreated. Consider paying close attention the Orangetown race before you vote on November 8.
Cliff Weathers publishes the political and community affairs blog, Left Of The Hudson.