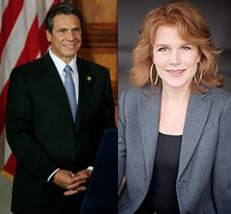 Nyack, Oct 26 — New York Governor Andrew Cuomo has endorsed Jen White in her bid to become Mayor of Nyack, New York.
'€œI am endorsing Jen Laird White as the next Mayor of Nyack because of her vision and commitment to improving the quality of life for all residents in the community,'€ said Cuomo. '€œI am delighted that she has taken her extraordinary skills into public service.'€
This is the first time in the history of the village that a governor has endorsed a candidate for Mayor of Nyack. Cuomo's endorsement follows previous thumbs-up from Congressman Eliot Engel, Assemblywoman Ellen Jaffee, NYS Senator, David Carlucci, Rockland County Legislator Connie Coker and three former Nyack Mayor's and three out of the four current Village Trustees.
'€œI am honored to receive Governor's Cuomo's endorsement,'€ White said.  '€œI look forward to working with the Governor to advance the interests of the Village of Nyack.'€