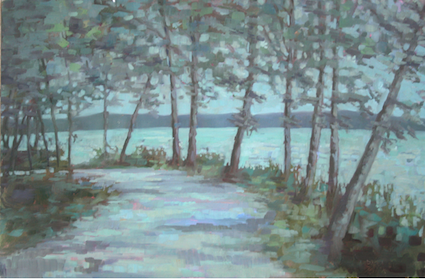 This month you can see Hook Mountain, the Tappan Zee Bridge and Tallman State Park at the Palisades Mall.
Local artist Sue Barrasi brings her '€œSmall Works'€ exhibit to Barnes & Noble at the Palisades Center Mall from Oct 16 – Nov 13 to promote art in public spaces.
Barrasi captures Rockland's beauty through broad strokes of paint with bold splashes of color.  '€œHudson Blues'€  an oil paintings, created while painting plein air exhibits the many moods of the Hudson River as the sun sets at Nyack beach.
"It is important to promote art in public spaces to help promote and enrich a community," says Barasi. "Exhibiting in work spaces and general public areas advance and promote a meaningful role for the arts in the lives of  individuals,  families and communities."
Barasi's work has appeared in magazines, on stamps and in sculpture. Trained as an illustrator at the School of Visual Arts in New York,  she redirected herself as a fine artist as she started exhibiting in galleries and juried shows winning numerous awards and recognition. Her oil paintings have been exhibited throughout the Hudson Valley, Manhattan, and private collections.  McCalls Magazine, Chelsea House Publications and various NY agencies have used her art as illustrations in magazines,  for Men's apparel,  packaging and
book covers.
Graphic: Hudson Blues, an oil painting by Sue Barrasi