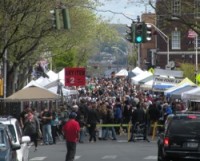 There's a new exhibitor at the Sun Sept 25 Street Fair in Nyack. In addition to the booths of arts, crafts, jewelry, knick-nacks, practical and whimsical, you'll find the FEDS. Washington, in the form of FEMA, will be here. And yes, there are here to help.
Representatives from the Federal Emegency Management They will be at Septemberfest to answer questions about  Hurricane Irene. "It's important that residents and businesses register with FEMA if their property or business was damaged and they are in need of financial assistance," says Chris Jensen, Rockland County's Office of Fire & Emergency Services Program Coordinator.
Septemberfest, sponsored by the Nyack Chamber of Commerce,  is Sunday Sept 25, rain or shine in downtown Nyack.
Shop for Fall gifts and fine arts and crafts, watch street performers, and munch on popcorn, cotton candy and foods from all over Rockland and around the world from 10a to 5p.
Up to 25,000 people come to Nyack's street fairs. Main Street and Broadway are closed to traffic creating both a car- and care- free pedestrian mall. Visit village merchants and street fair booths along the majestic Hudson.
Source: Nyack Chamber of Commerce
Photo Credit: Richard Kavesh