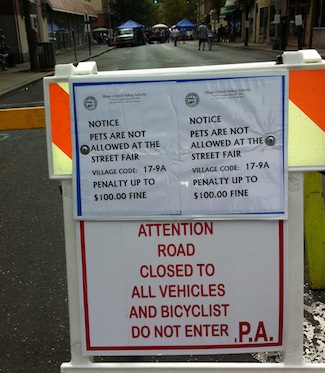 by Dave Zornow
There are three things which Nyack has in abundance: artists, bikers and dogs. But on Street Fair Sundays two out of three aren't welcome.
"To the vendors and businesses at the Nyack Street Fair, we would have spent more of our money with you, but a police officer told us we had to leave with our two Greyhounds. There were no dogs allowed at the Festival held on a PUBLIC STREET!" writes commenter GreyhoundMom. "We were singled out. There were at least 50 dogs and I saw no signs posted that said no dogs."
GreyhoundMom isn't entirely correct about "no signs." There was at least one sign on N. Broadway. But if you entered the street fair zone from another direction you might not have seen this posting.
"So many people wanted to meet our dogs, and adults and kids loved petting them. Nyack, I see no reason to come back. We drove forty minutes after seeing your news article, which made no mention of the 'No Dog' law. We were going to go to the Hoboken Festival, where dogs are always welcome, but never having been to the Nyack Festival we decided to go there instead. My dogs are well behaved and as I do not have human children: they are my family."
According to one regular Nyack vendor, the village's enforcement of the anti-dog policy is unusual on the street fair circuit. "Nyack's no-dog rule is something I've never seen at any other street fair, anywhere." And vendors aren't happy about this rule as anything that discourages traffic is bad for their business — and one more reason to skip Nyack's Fall, Spring and Summer fairs. "it's very unusual — and I completely disagree with the no dogs rule," they said. This vendor agreed with GreyhoundMom that enforcement is uneven and the rule is poorly advertised.
"If you are trying to get people to visit Nyack, why are sending dogs and their owners away?" asked another Nyack street fair vendor. "Which is the better smell, the occassional side walk doggie mud pie, or the sweet aroma of cash?" Concerned about chasing away any consumer in a down economy, this vendor agrees that it's a bad policy — and not the kind of reputation Nyack should be cultivating on the competitive street fair circuit. "Many of the people who came with dogs on Sunday seemed to be the affluent kind of shopper that I would hope to see in Nyack visiting your wonderful downtown on a pleasant fall day."
"The rule exists only to protect other fair goers and the village," says Jack Dunnigan owner of Pickwick Books and president of the Nyack Art, Craft & Antiques Dealers Association (ACADA). A self-described dog lover, Dunnigan says that the vast majority of dog owners are responsible but his group doesn't want to risk having an incident with aggressive animals their owners can't control. "When you have a fair that is attended by 25,000 people — including children and babies — it's just too risky. We'd like to just simply  and avoid even the possibility of someone being bitten when they are merely trying to enjoy the day."
As for cyclists — it's hard to tell if Nyack is biker-hostile or just a signage-challenged, although anyone who has tried to decode the instructions on a Muni Parking Meter will certainly agree with half of that statement. The Village Code does include provisions to prohibit animals at street fairs, however it doesn't say anything about bikers. So the bicycle prohibition might be both short-sighted and illegal.
What the parking authority probably meant to say was "you can't ride your bike in the street fair" which is both a reasonable request and common sense, too. Although some regard bikers as only a nuisance, smart business owners realize that you don't chase away upscale out-of-town visitors with enough disposable income to spend several thousand dollars on their hobby. When you throw an event like the street fair where vendors have to pay hundreds of dollars to exhibit their wares, you want to encourage — not discourage — people to stay and spend. And come back again some day, too.
See also: