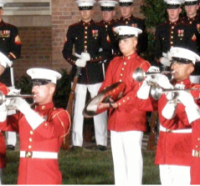 Nyack, Sept 9 — Fair skies, a big crowd and more than 70 marines are in the forecast for Saturday afternoon in Memorial Park at 2p. That's when Stand, a concert jazz program commemorating the American experience surrounding 9/11 will be premiered by the Anita Brown Jazz Orchestra.  The United States Marine Corps Silent Drill Platoon from Marine Barracks, Washington, DC will be on hand representing all first responders with an additional thirty Marines from Brooklyn, Newburgh and Middletown attending the event.
"Never in the history of jazz has there been performance art that brings both NYC's finest Broadway and studio musicians together with the finest ceremonial representation of our nation's first responder, The United States Marines," says Nyack's Anita Brown, an award-winning New York jazz composer. Brown says it's fitting to premiere this production on the eve of the ten-year anniversary of the September 11 tragedy. "I did not set out to create something ground-breaking, but that's sometimes what happens when artists just follow their instincts," she says.
Haley Swindal, the granddaughter of the late George Steinbrenner, will be the Master of Ceremonies for this event. Swindal will sing the national anthem  and perform with several other vocalists in the final movement of Stand.
Stand: A Symphony for Jazz Orchestra in five movements, will be performed at Nyack's Memorial Park on Saturday September 10 at 2p. Admission is free — but it's recommended that concert goers bring a lawn chair to enjoy the show. Memorial Park in Nyack overlooks the Hudson River with an entrance at Depew & Piermont Avenue in Nyack, NY.
The final movement of Stand includes audience participation. Here's a preview of Saturday's performance:
The first movement, The Homeland, is a blues in the style of America's own classic tradition of swing jazz, conveying a sense of security pre-dating 9/11/01.
The second, Tuesday Morning, opens with the depiction of a lovely morning and moves through the events of that tragic day.
Benumbed follows, an expression of grief and confusion.
The fourth movement, Valor, was inspired by traditions of military funeral honors. It includes a dramatic moment of silence/reflection representing of all first responders and a renewal of strength.
The audience is invited to join the performers in song in the final movement, fittingly called Stand. Brown says it includes an anthem-like, unison melody showing the united strength of many.
Public response to Stand has been positive. "People are fascinated with the idea and have thanked me for doing this," says Brown.  She's especially pleased about how people have responded to the significance of the USMC's Silent Drill Platoon participation.  "The Silent Drill Platoon is world renowned.  The fact that they have approved support for this event is amazing to me," she adds.
It's a big event for Nyack and Brown hopes the community will come out to support the performance — with their lawn chairs and their wallets, too. "We are operating with very little capital and truly need donations from individuals and businesses." Brown is hoping that donations at the contributor page of StandSymphony.com will help cover the costs of feeding and busing 33 Marines from Washington, DC, the professional musicians that will be performing as well as the sound engineers and the videographers, too. "Writing music is time-consuming; writing while there is no income raises many challenges," says Brown.
Multi-talented Anita Brown is a composer, a columnist for JazzEd magazine and the founder and leader of the Anita Brown Jazz Orchestra. The ABJO has been described as a '€˜blue-chip' ensemble, calling upon '€˜top drawer New York session' players including a '€˜platoon of persuasive soloists' breathing life into Ms. Brown's works with conviction and finesse. In 2006 Brown received the ASCAP/International Jazz Composers' Symposium New Music Award for Big Band Works for her composition, The Lighthouse.
In the event of rain, Stand will performed indoors at the Bowman Gymnasium at Nyack College, 1 South Boulevard in Nyack.