T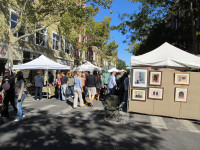 here will be music and dancing in the streets on Sunday at Septemberfest. And just like the song says, it doesn't matter what you wear  just as long as you are there, along with the street performers, the popcorn and cotton candy, the Fall gifts and the fine arts and crafts.
Septemberfest, sponsored by the Nyack Chamber of Commerce,  is Sunday Sept 25, rain or shine, from 10a to 5p in downtown Nyack.
Up to 25,000 people come to Nyack's street fairs. Main Street and Broadway are closed to traffic creating both a car- and care- free pedestrian mall. Visit village merchants and street fair booths along the majestic Hudson.
For more information call (631)-234-4183
Source: Nyack Chamber of Commerce
See also: